Hindquarters
NOTE: illustrations are NOT part of the official standard!
"Hindquarters - Broad, wide and muscular.
Second Thighs - Well developed, leading to a strong hock joint."
| | |
| --- | --- |
| Good 2nd Thigh | Narrow |

"Stifle Joint - Is moderately angulated matching the front."
| | |
| --- | --- |
| Balanced (matching) | NOT Matching |

"Rear Legs - Are wide apart and parallel when viewed from the rear."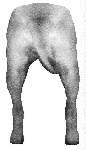 "When the portion of the leg below the hock is correctly `set back' and stands perpendicular to the ground, a plumb line dropped from the rearmost point in the hindquarters will pass in front of the foot. This rules out straight hocks, and since stifle angulation varies with hock angulation, it also rules out insufficiently angulated stifles. Fault - Straight stifles."
| | | | |
| --- | --- | --- | --- |
| Over Angulated | Moderate | Moderate | Straight |
| | | | |
| --- | --- | --- | --- |
| Over Angulated | Moderate | Moderate | Straight |
Over Angulated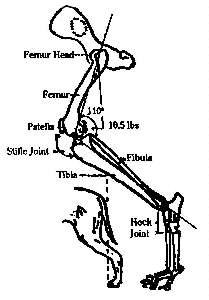 Moderate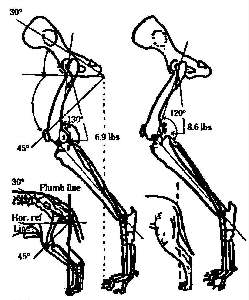 Straight