Articles and Information About Mastiffs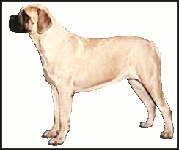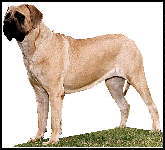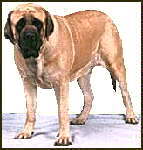 Above, the same female mastiff pictured at 1, 2, and 3 years of age.
Am.Can.Ch. Monroe's Queen Antigone, TT,CGC,TDI
"Annie" is loved and missed by Linda Monroe.
This page contains information about Mastiffs primarily written by Mastiff breeders. There is information about Mastiff litters, books, health, titles, the AKC standard, links to other web sites about Mastiffs, and detailed information, including pictures, for over 200 Mastiff stud dogs of the past and present. This information comes from the Mastiff Stud Dog Register, The Mastiff Reporter, and other articles written by breeders.
Mastiffs DNA Tested Clear of PRA This information is now in the OFA database.
CMR in Mastiffs is an autosomal recessive disease, so the gene mutation is inherited from both sire and dam. By utilizing OptiGen's CMR DNA test and following their breeding recommendations, breeders can use dogs in their breeding program regardless of the dogs' CMR genetic status and at the same time work to eliminate the disease from the Mastiff gene pool.

Mastiff Rescue

Health Problems Found in Mastiffs

Health Certificates updated 4/2004

Articles About Mastiffs Written By Breeders Updated: 2/5/98

Mastiff Stud Dog Register Sorted by Country/State Updated: 11/18/12

Online Registration Form
PLEASE NOTE: most of the information about each stud dog is provided by the dog's owner and is not verified. Much of the data provided is subjective and is based on the owner's experience and unique perspective.
This section contains a list of mastiff stud dogs ordered by the country and state that the owner lives in. There is a hypertext link to a detailed page for each dog. In the three-generation pedigrees, dogs' names in bold have OFA clear hips and dogs' names that are in italics have OFA clear elbows. Published offspring and siblings appear in an AKC Stud Book, AWARDS, OFA list, and/or CERF list.

This section contains detailed information about male mastiffs that have sired a litter, but are no longer available as studs or whose availability is unknown.

Female Mastiffs OFA Clear of Hip and Elbow Dysplasia Updated: 9/1/03

Female Mastiffs that have appeared in both the OFA hip and OFA elbow lists published by the AKC and/or MCOA.

Male Mastiffs OFA Clear of Hip and Elbow Dysplasia Updated: 9/1/03

Male mastiffs that have appeared in both the OFA and OFEL lists published by the AKC and/or MCOA.

Male Mastiffs Listed in AKC Stud Books 1/01 to 6/01 Updated 9/9/01

A mastiff appears in the AKC Stud Book only once, after a litter produced by the mastiff is registered.
Links to other Mastiff pages
You can now see CHIC information at the OFA OFA web site.

A touching and informative blog about a mastiff's struggle with Coonhound Paralysis
A collection of stories about mastiff heroes, healers, teachers, and guides.

Poems and Stories About Mastiffs

Mastiff Related Products Updated 10/07.

Links to pages about pedigree program, T-shirts, statues, collectibles.
Extensive information on mastiffs - temperament, grooming, chat, message board, photos, history, how to play with a Mastiff, training, size issues, picture archive (you can add your Mastiff), interactive games.
Gorgeous pictures of Mastiffs doing all kinds of things. Also, litter testing tables - wouldn't it be great if all breeders were able to get their pups tested and made these public?

More web pages about mastiffs. Updated 9/16/06.

Open Directory Project

Dogs, Diet, and Disease:

An Owner's Guide to Diabetes Mellitus, Pancreatitis, Cushing's Disease, and More
Author: Caroline Levin, RN
Copyright 2001, 172 pages, Paperback Item # DV180 Price: $29.95
From www.dogwise.com for catalog call (800) 776-2665.

Thunder Phobia

Thunderstorm Anxiety
Dogs on the Couch, behavior therapy for training and caring for your dog.
Lachman, L. & Mickadeit, F. 1999, Overland Press, New York
ISBN # 0-87951-922-3
Over 100 articles on treating arthritis and hip dysplasia in pets, the science backing glucosamine, a review of treatments, a pet arthritis newsletter, and more.
If you have any suggestions to improve this page, send me mail.
Old dogs are the best dogs - in the background Ch. Gold Coasts Marshal Tucker, CGC,TDI owned by Lisa Nicolello taking a break!