Intl.Am.Ch. Bearhill Maximus Aureus, RN,CGC,TDI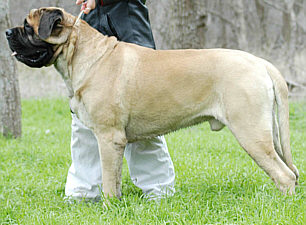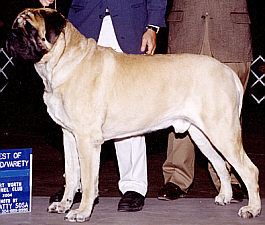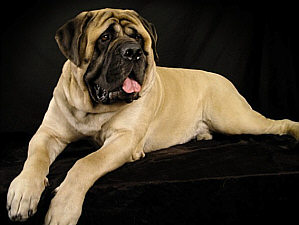 AKC#: WR007840/03     BORN: 12/23/2000    PROVEN: yes
Description:
  COLOR     : fawn			WHITE MARKINGS: none
  MASK      : standard, black ears	COAT          : medium
  HEIGHT    : 32			WEIGHT        : 197 lbs
  BITE      : scissors			EYE COLOR     : medium
  BONE SIZE : large			TAIL          : long
  ANGULATION: Moderate			NAILS         : all black
Health Exams: 
  HIPS      : MF-6155G27M-PI; PennHIP .33/.33	ELBOW	: OFEL MF-EL2984M27-PI
  EYES      : CERF MF-3124 63 months		HEART	: OFA MF-CA1153/63M/P-PI
  THYROID   : OFA MF-TH674/63M-PI		PATELLA	: OFA MF-PA1258/16M/P-PI
  CYSTINURIA: normal 5/24/2006			VWD	: normal 108%
  PRA DNA   : homzygous normal, 02-1219

Temperament: CGC, TDI
  ATTITUDE TOWARD OTHER DOGS    : friendly
  ATTITUDE TOWARD STRANGERS     : friendly
  ATTITUDE TOWARD NEW SITUATIONS: at ease

Pedigree:
								-Ch. Iron Hills Paint Your Wagon
			-Ch. Iron Hills Into the Night
			  OFA MF2277G34M,OFEL,CERF		-Kara Stonehage
  SIRE: Iron Hills Hard Days Night
	 OFA MF4245G33M,OFEL					-Ch. Sillar's K.O. Tyson
			-Iron Hills One Drink Limit
								-Ch. Iron Hills Spill The Wine

								-Ch. Iron Hills Portfolio
			-Am. Can. Ch. Iron Hills Under the Influence
			  OFA MF3388G24M,OFEL,CERF,PRADNA	-Iron Hills One Drink Limit
  DAM:  Iron Hills Keep on Truck'N
	 OFA MF4223E24F,OFEL,CERF				-Am. Can. Ch. Matts Joshua of Dogwood Knoll
			-Ch. Iron Hills Total Disregard
			  OFA MF3189G33F,OFEL			-Ch. Iron Hills Fixin To Start

Comments: 10/05
Max has been the joy of my life! He was my first show dog and finished his Championship with ease. For the first half of 2004, he was one of the top 20 Mastiffs in the country and he was only handled by me! Many judges have commented on his OUTSTANDING movement - he is one of the soundest moving dogs out there!
Max went to work with me at PetsMart when I was a trainer there and his gentle but outgoing temperament gained him many admirers and allowed me to use him in my classes as both a demo dog and as a safe dog to help other dogs get needed socialization. He earned his CGC and TDI and has been to schools and nursing homes regularly. We are currently working on his CD in obedience. We got his first 2 legs the first time out & the only thing keeping him from the last are my own time constraints (we expect to finish sometime in the Fall of 2005).
His winning looks and temperment won him a spot on a children's commercial done by Hasbro ... you can see the commercial by using the following link: http://www.hasbro.com/furreal/pl/page.commercial/video.smoochie/dn/default.cfm
He has been an outstanding dog for both me and many of those who have met him!

Owner:
  NAME       : Heather L. Tauer
  E-MAIL     : htauer@flash.net
  KENNEL NAME: Legacy Hills Mastiffs
  ADDRESS    : 2837 N Crowley Cleburne Rd,  Crowley, TX 76036
  PHONE      : (817) 297-7063
Breeder: Jennifer Walter