Ch. Castlemist Baloo Bayou, CD,TT,CGC,TDI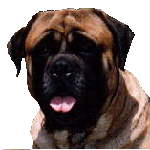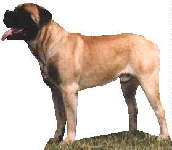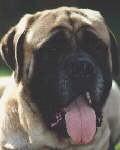 AKC#: WP504298/01     BORN: 9/12/1993      PROVEN: yes
Description:
  COLOR     : apricot			WHITE MARKINGS : small chest,one toe
  MASK      : standard, black ears	COAT           : medium
  HEIGHT    : 30			WEIGHT         : 160
  BITE      : undershot			EYE COLOR      : dark
  BONE SIZE : huge			TAIL           : short
  ANGULATION: moderate/straight		NAILS          : more black than white
Health Exams:
  HIPS      : OFA MF-2143F28M-T		ELBOW          : one clear, one DJD grade I
  EYES      : CERF MF-938/96-37		                 (being resubmitted)
  THYROID   :				vWD            :
Temperament: CGC, TDI
  ATTITUDE TOWARD OTHER DOGS     : friendly
  ATTITUDE TOWARD STRANGERS      : friendly
  ATTITUDE TOWARD NEW SITUATIONS : curious / bold / at ease

Pedigree:
					-Deer Run Falcon
			-Millport Farm Randy
					-Cindy Lou
  SIRE: McGill's Brandon Buck Samson
					-Rose-Dale Brawny Brandy
			-Tiffany Bess
					-Tiffany Star

					-Ch. Deer Run Ivan
			*Ch. Deer Run Ezekiel
			   OFA MF246	-Le Mar's Sally
  DAM:  McGill's Lady Of Silver Run
					-Ch. Harper of Lyndon
			-Cedar Ridge Apricot Brandy
					-Christian Bristol Cream

Comments: 7/96 NO LONGER AVAILABLE 4/97
Baloo is a ham when it comes to shows, both in breed and obedience. Even when he failed to earn a passing score, he did it with style! Baloo won the Open Apricot dog class owner-handled at the 1995 National Specialty under judge Patrick Doniere. Judges consistently comment on his attitude and outstanding movement, and he finished his Championship with two four point majors and a five point major, the last with BOW and BOS over four very nice specials at the supported entry at Hockamock KC show with an entry of 32, owner handled.
Baloo is an atypical Mastiff in that he excels at athletic endeavors. He loves to be anywhere with his family, is a sweet boy and a favorite with visitors. He enjoys the juniors ring or anywhere he can be in the limelight.
He is passing on his attitude, good looks, athletic ability and soundness to his offspring. One of his sons won BOB Puppy in Boston under respected judge Dr. Quentin La Ham at his owner/handler's first show ever! His littermate, Elsa, took Reserve Winners Bitch the next day in Boston. Castlemist Pretty in Pink, a puppy who lives on the West Coast and is co-owned with Misty Shearon, won her class at the Canadian National Specialty with judge Chuck Cutbert, president of the MCOA. Several from that first litter also have their CGCs and are training for their CDs. A male, Castlemist Olympic Daybreak, took WD and BOW at six months and five days of age for two points, handled by a fifteen year old junior and beating his dam. His littermate won RWB the same weekend competing against their dam.
Baloo can bring attitude, bone and movement to a breeding. He is available to tested bitches who have size and good angulation. He is wonderful as a choice for a litter of sound, typey obedience puppies. All testing will be complete before being offered to the public. Any breeding must be within MCOA guidelines to be considered.

Published Photographs: MCOA Journal, 1994#2, inside cover. MCOA Journal, 1994#3, inside cover.
  MCOA Journal, 1995#3, page 31 & 104.
Published Full Siblings:
  Bubba's Buck Run, CD
Published Offspring:
  Castlemist Cambrian Bramble  CERF
  Castlemist Disarming Elsa  CERF
  Castlemist Olympic Daybreak  CERF
  Castlemist Pretty In Pink  CERF

Owner:
  NAME        : Heidi MacKenzie
  KENNEL NAME : Castlemist Mastiffs
  ADDRESS     : PO Box 497,  Hubbardston, MA 01452
  PHONE       : (978) 632-6898
  E-MAIL      : mastiffmom@mastiffmom.com
Breeder: R. McGill, S. Blickenstaff