Ch. Creekview's Plantation Boo Bear CD,WD,TDI,CGC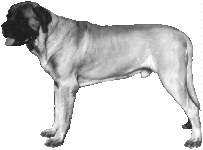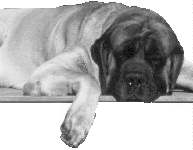 AKC#: WP502125/02     BORN: 8/9/1993     PROVEN: yes
Description:
  COLOR     : silver fawn              WHITE MARKINGS: none
  MASK      : standard, black ears     COAT          : 
  HEIGHT    : 34 1/2                   WEIGHT        : 208
  BITE      : level                    EYE COLOR     : dark
  BONE SIZE : huge                     TAIL          : standard
  ANGULATION: moderate                 NAILS         : all black
Health Exams:
  HIPS     : OFA MF-2017G24M,prelim GOOD    ELBOW: OFEL MF-EL296
  EYES     : CERF MF-649/95-24           Patellas: OFA MF-PA34/25/M
  THYROID  : normal                         vWD  : normal   vWF:Ag: 98%
Temperament: CGC,TDI
  ATTITUDE TOWARD OTHER DOGS    : friendly
  ATTITUDE TOWARD STRANGERS     : friendly
  ATTITUDE TOWARD NEW SITUATIONS: curious / at ease

Pedigree:
						-*Ch. Deer Run Ezekiel
			-*Ch. Burns Hall Zackery
			   OFA MF1175G42M,CERF	Ch. Thorchelseaias Noel
  SIRE: Am.Can.Ch. Matts Joshua Of Dogwood Knoll
						-Rapscallion's Sir Winston
			-Ch. Burns Hall Nicole
			    OFA MF1223F53F	-Ch. Night Stalker Sarah Anne

						-*Ch. Deer Run Ezekiel
			-Ch. Old School Sergeant Major
			   OFA MF712G35M	-Ch. Old School Ursa Major
  DAM:  Ch. Old School Creekview Major K, CD
          OFA MF1696G52F			-Ch. Autumn River Big Ben
			-Old School Ben's Autumn Major
						-Ch. Old School Ursa Major

Comments: 1/96 NO LONGER AVAILABLE AS A STUD DOG
I am a 44 year old Ellie Mae Clampett wannabe and have had dogs forever. But if I had to choose between all the dogs I've ever owned or Boo Boo, I'd choose Boo Boo, my miracle dog.
Spring of '95 we began showing him and to our delight he got 14 points in a handful of shows. We decided then to pull him from competition and hoped from Winner's Dog at the MCOA Specialty.
Three days before the Specialty, Boo went into the woods while Tom stood on the driveway and when he called Boo Boo didn't respond. I knew immediately that something was dreadfully wrong since he's always the first one to return, big gallops and grinning face. Tom then began tromping the woods and I got in the car and started rolling down the road, whistling and calling for him between sobs and prayers. At 3 AM we called it a night and went to bed holding each other and hoping for a miracle.
Tom got up at 5:30 and started to search again. After half an hour of looking all over our 28 acres, he turned around and there was Boo Boo, standing there smiling at him.
The left side of his head was twice its normal size, eye completely shut, and he had a huge gash in his leg but he was somehow able to limp back to the house and get in the van. We drove him to the vet, got him stitched up and took him home to begin intensive T Touch therapy, rubbing and massaging his head hoping that he would still be the smart, calm dog he's always been. To our amazement within three days the swelling subsided and the limp began to disappear. My best dog friend was back and going to be fine; I got my miracle...
Boo Boo is a huge, sweet, spoiled rotten sofa mastiff. His strengths are his fluid, powerful movement, perfect topline, great humor, intelligence, physical soundness, pigment, long body, bone, good angulation, correct ear size and tail length/set, and good tight monstrous feet. He excels at therapy work and is one of the breed's greatest ambassadors and educators.
Weaknesses: slow to mature (just beginning to bulk up at two), "soft" dog - in obedience I must ignore his mistakes and reinforce his successes since he gets crushed when you fuss at him.
Available to tested bitches with impeccable temperaments as soon as he completes his CD and becomes a working dog.

Published Offspring:
  Marnay's Always On Target CERF
Published Full Siblings:
  Cluny's Josh's Jericho Warrior
  Creekview's Major Annabelle, CD OFAg,CERF
 *Ch. Creekview's Major Montgomery, CD,TT,CGC,WD OFAg25,OFEL,CERF
  Creekview's Nana
  Wrightous Daniel Of Creekview

Owner:
  NAME       : Jill McMahon
  MAIL TO    : MCMASTIFF@aol.com
  KENNEL NAME: Plantation
  ADDRESS    : 4620 Durham Rd,  Raleigh, NC 27614
  PHONE      : (919) 847-4951
Breeder: K. Routten