Ch. MeadowFarm Madrygal's Laird Caber, CGC,TDI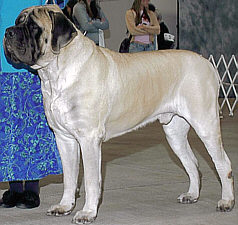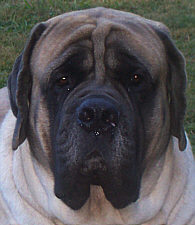 AKC#: WR071670/06     BORN: 8/18/2002    PROVEN: yes
Description:
  COLOR     : fawn			WHITE MARKINGS: none
  MASK      : standard, black ears	COAT          : short
  HEIGHT    : 33			WEIGHT        : 215 lbs
  BITE      : scissors			EYE COLOR     : dark
  BONE SIZE : large			TAIL          : long
  ANGULATION: moderate			NAILS         : all black
Health Exams: 
  HIPS   : OFA MF-5914F24M-PI		ELBOW     : OFEL MF-EL2803M24-PI
  EYES   : CERF MF-2814/37		PATELLA   : OFA MF-PA982/24M/P-PI
  THYROID: OFA MF-TH508/24M-PI		vWD       :
  HEART  : OFA MF-CA1028/35M/C-PI-ECHO	CYSTINURIA: UPenn normal 5/2005
  PRADNA : clear by parentage
Temperament: CGC,TDI
  ATTITUDE TOWARD OTHER DOGS    : aloof
  ATTITUDE TOWARD STRANGERS     : cautious / friendly
  ATTITUDE TOWARD NEW SITUATIONS: at ease
Pedigree:
							-Ch. Iron Hills Portfolio
			-Am.Can.Ch. Iron Hills Under The Influence
			  OFA MF3388G24M-T,OFEL,CERF	-Iron Hills One Drink Limit
  SIRE: Ch. Oaklane's This Bud's For Us
          OFA MF4448G24M,OFEL,CERF			-Oaklane's Polaris Intimidator
	  PRADNA	-Ch. Oak Lane's Image Of Dale
			  OFA MF3371F24F-T,OFEL		-Ch. Oaklane's Jeremy's Lucy

							-Ch. Iron Hills Paint Your Wagon
			-Ch. Iron Hills InTo The Night
			  OFA MF2277G34M,OFEL,CERF	-Kara Stonehage
   DAM: Belaire Sandpebble
	  OFA MF4669F27F,OFEL				-Am.Can.Ch. Matts Joshua Of Dogwood Knoll
	  PRADNA	-Ch. Iron Hills Little Earthquake
			  OFA MF3056G30F,OFEL		-Ch. Iron Hills Fixin To Start

Comments: 8/06 9/07
Caber is a group winning and multiple group placing dog. He is from a litter of 5 Champions and all CHIC siblings with two healthy other sisters that were spayed in pet homes. Superb breeding health and conformation thanks to MeadowFarm Mastiffs' Tami Sholes, Breeder. He was nationally ranked in 2006 and 2007.
He is proven and is available to a few select, tested, bitches.
He is an extremely devoted and loyal mastiff. We don't have a website but email and telephone inquiries are welcome.

Published Full Siblings:
  Meadowfarms Briana Of Ram's Gate CERF
  Ch. Meadowfarms Major Breakthrough OFAg28,OFEL,CERF
  Ch. Meadowfarms Heaven Sent Lily OFAg28,OFEL,CERF
  Ch. Meadowfarms Polaris Oaklane Molli OFAf26,OFEL,CERF
  Ch. Meadowfarms scout's Honor OFAg25,OFEL,CERF

Owner:
  NAME       : Judi Ropes
  E-MAIL     : judiropes@comcast.net
  KENNEL NAME: Madrygal Meadow Mastiffs
  ADDRESS    : 7434 Byron St. N.E.,  Olympia, WA 98506-9724
  PHONE      : (360) 943-6718	Cell: (360) 280-7217
Breeder: T. Sholes