Ch. Thousand Oaks Riothamus Casius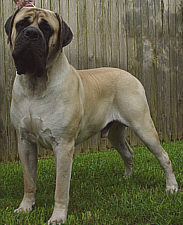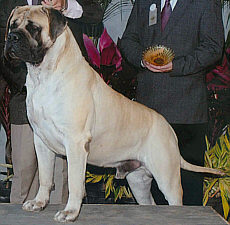 AKC#: WS127223/03     BORN: 12/17/2004     PROVEN: no
Description:
  COLOR     : fawn			WHITE MARKINGS: none
  MASK      : standard, dark ears	COAT          : short
  HEIGHT    : 33			WEIGHT        : 225
  BITE      : level			EYE COLOR     : medium
  BONE SIZE : huge			TAIL          : standard
  ANGULATION: moderate			NAILS         : all black
Health Exams:
  HIPS      : OFA good MF-7127G34M-VPI  ELBOWS: OFEL MF-EL3813M34
  EYES      : CERF MF-3119
  THYROID   : 				vWD       : 
  PATELLAS  : 			 	HEART     : 
  PRA DNA   : clear by parentage	CYSTINURIA: 
Temperament: 
  ATTITUDE TOWARD OTHER DOGS    : friendly
  ATTITUDE TOWARD STRANGERS     : friendly
  ATTITUDE TOWARD NEW SITUATIONS: at ease
Pedigree:
		      							-Ch. Night Stalker Sillars Clyde
				-Ch. Sillar's Southports Isaac
				  OFA MF2161G30M,OFEL,CERF		-Sillar's Lady Grace
  SIRE: Ch. Southports High Life
	 OFA MF5839G25M							-Ch. Regal Hill Sudden Impact
				-Ch. Southports Northern Lights
				  OFA MF4503G35F,OFEL			-Ch. Southports Prima Bella

									-Ch. Night Stalker Sillars Clyde
				-Ch. Sillar's Southports Isaac
				  OFA MF2161G30M,OFEL,CERF		-Sillar's Lady Grace
  DAM: Ch. Thousand Oaks Hard HeadedWoman
	OFA MF4752G24F,OFEL,CERF					-Ch. Brite Star's Dual Image, CGC,TDI
				-Int.Am.Ch. Brite Star's GwenevereOfAdison, CGC
				  OFA MF2917F25F,OFEL			-Ch. Brite Star's Tempting Fate

Comments: 6/08
Angus is a very large, outgoing mastiff. He looks alot like his father Brew, littermate to Sherman, the top winning mastiff of all time.
Angus was the Grand Sweepstakes winner at the 2006 MCOA Nationals and also took an Award of Merit at 14 months. The following year he received the first Award of Merit under Breeder Judge David Hagey. In very limited showing he has managed to gather a Group 1 and several placements on the way to a top ten ranking.
On his off-time, Angus enjoys hunting and retrieving ducks with his lab housemates. The other hunters refer to him as a Texas sized lab!

Published Full Siblings:
  Thousand Oaks Annie OFAf28,OFEL

Owner:
  NAME       : Deborah McKibbon, Courtney Dieckman, Michael Reid
  WEB PAGE   : More info.
  ADDRESS    : New Caney, TX 77357
  PHONE      : (281) 572-1324
  E-MAIL     : calmastiff@gmail.com
Breeder: Kurt & Courtney Dieckman, Michael Reid