Sir Charles Bronson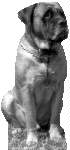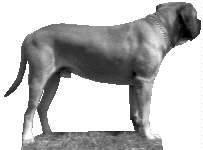 AKC#: WG465670     BORN: 12/20/1986     PROVEN: no
Description:
  COLOR     : apricot                 WHITE MARKINGS: none
  MASK      : standard, black ears    COAT          : short
  HEIGHT    : 28 1/2                  WEIGHT        : 130
  BITE      : undershot               EYE COLOR     : dark
  BONE SIZE : medium                  TAIL          : standard
  ANGULATION: moderate                NAILS: more black than white
Health Exams:
  HIPS     : OFA MF-926G43M           ELBOW  : OFA MF-EL6
  EYES     : CERF                     PATELLA: unknown
  THYROID  : unknown                  vWD    : unknown
Temperament: not tested
  ATTITUDE TOWARD OTHER DOGS    : aggressive (see comments)
  ATTITUDE TOWARD STRANGERS     : friendly
  ATTITUDE TOWARD NEW SITUATIONS: curious

Pedigree:
					-Ch. Reveille Lightning
			-Oak Ridge's Apollo Dook
					-Ch. Oak Ridge's Queen Of Sheba
  SIRE: Sir Rufus Duke Of Dover
					-Ch. Deer Run Zachary
			-Deer Run Sweetie Pie
					-Deer Run Kirsty

					-Oak Ridge's Apollo Dook
			-Heldeberg's Rufus
					-Deer Run Sweetie Pie
  DAM:  Hempstead's Honey Bear
					-Oak Ridge's Apollo Dook
			-Critchett's Sugar Babe
					-Deer Run Sweetie

Comments: 12/95 - NO LONGER AVAILABLE AS A STUD DOG
I chose aggressive for attitude toward other dogs because it was the closest choice that describes "Charlie". Charlie is perfectly fine with other dogs if the dog's attitude toward him is friendly and/or submissive. However, should a dog be aggressive toward him or challenge him, he will not back down, but answer the challenge.
Requirements for bitches: Same temperament as Charlie. Color should be clean and true. Must pass OFA hips and elbows and CERF test.
I am willing to have VWD and thyroid test done on Charlie if the bitch owner so desires.

Owner:
  NAME       : Jeanne Vajna de Pava
  KENNEL NAME: Gatekeeper
  MAIL TO    : jc25@crux2.cit.cornell.edu
  ADDRESS    : 2294 Slaterville Rd,  Ithaca, NY 14850-9647
  PHONE      : work: (607) 253-3513  home: (607) 539-6306 after 6:30pm EST & weekends
Breeder: J. & S. Hempstead