Windfalls Risk Rewarded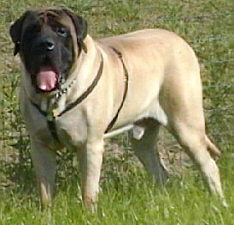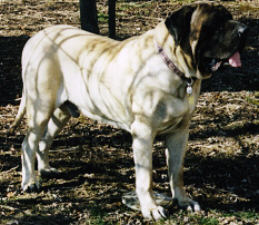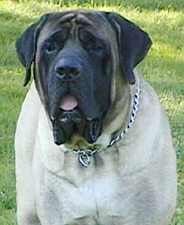 AKC#: WP724938/05     BORN: 7/26/1996     PROVEN: no
Description:
  COLOR	    : fawn			WHITE MARKINGS: chest
  MASK	    : standard, black ears	COAT	 : short
  HEIGHT    : 31			WEIGHT	 : 205
  BITE	    : scissors			EYE COLOR: dark
  BONE SIZE : large			TAIL	 : standard
  ANGULATION: moderate			NAILS	 : all black
Health Exams:
  HIPS	    : OFA MF3236G25M-T		ELBOW	: OFEL MF-EL987-T
  EYES	    : CERF MF-947/1999-33	PATELLAS: OFA MF-PA148/16/M-T
  THYROID   : normal			vWD	: normal  vWF:Ag: 153%
  CYSTINURIA: unknown			HEART	: OFA MF-CA102/16M/S-T
Temperament:
  ATTITUDE TOWARD OTHER DOGS	: aloof / friendly
  ATTITUDE TOWARD STRANGERS	: friendly
  ATTITUDE TOWARD NEW SITUATIONS: curious / bold / at ease

Pedigree:
					-Ch. Deer Run River Bull
			-Ch. His Majesty's Lion Of Judah
			   CERF		-Ch. Deer Run Glory To God, CD,WD,CGC,TDI
  SIRE: Ch. His Majesty Agincourt Jester, CGC
          OFA MF1737F24M		-Ch. Damaria the General
          OFEL,CERF	-Ch. Pinewoods One Day At A Tyme
					-Ch. Windy Hill's Step Aside Girls

					-Ch. Candeans Bosco Bear
			-KK's Bosco Bear Jr
					-Royalcourt Nettesa
  DAM:  Mac's Silver Lady
          OFA MF1459G26F		-Willowledge Adam II
          OFEL,CERF	-KK's Jessica Of Norton
					-KK's Bell

Comments: 3/00
Chaucer is a real character. He absolutely LOVES people, and his whole rump shakes when he meets someone new, or knows someone is going to pet him. He also gets along very well with other dogs, AND cats.
As listed above, his hips are OFA GOOD, and also has OFA certifications for his elbows, heart, patella, and thyroid. His eyes have CERF'ed normal every exam, and is vWD clear.
As compared to the mastiff standard, Chaucer has wonderful mastiff type, standing 31 inches at the withers, with a nice big head with great expression. He has an incredible amount of pigment in his face, and dark ears. He also has a perfect scissors bite; black nails; nice angulation in the rear; large bone size, and nice substance, weighing in at a LEAN 205lbs. Chaucer has superior movement, and is a true athlete - he can keep up with Lab, Chessie, and husky buddies when so inclined.
Chaucer has 13 points and a major with a VERY inexperienced owner/handler. Chaucer is not a big fan of the show ring, and would rather be sleeping in his mommy or daddy's lap, so we have not pushed him to finish.
Also, Chaucer makes visits to a local nursing home; and they just absolutely LOVE him!!! This is a true testament to his wonderful temperament.

Published Full Siblings:
  Windfalls A Stitch In Thyme CERF
  Windfalls Bartholomew Blue CERF
  Windfalls Hamlets Heratio CERF
  Windfalls Max A Million CERF
  Windfalls Nelli CERF
  Windfalls Triton OFAg24,OFEL,CERF

Owner:
  NAME	 : Matthew Scott Raudenbush
  ADDRESS: 125 Stevers Mill Rd,  North Wales, PA 19454
  PHONE	 : (215) 530-5149
  E-MAIL : TAMMR@prodigy.net
Breeder: J. McNamee