Intl.Am.Ch. Redgates Command Performance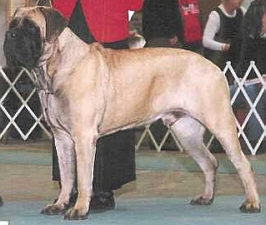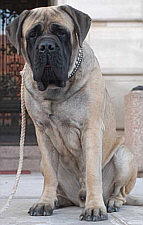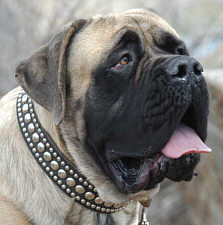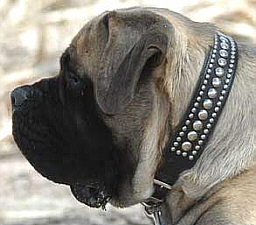 AKC#: WR039161/03     BORN: 7/19/2001     PROVEN: yes
Description:
  COLOR     : fawn			WHITE MARKINGS: none
  MASK      : standard, black ears	COAT          : short
  HEIGHT    : 30			WEIGHT        : 190 lbs
  BITE      : scissors			EYE COLOR     : dark
  BONE SIZE : large			TAIL          : standard
  ANGULATION: moderate			NAILS         : all black
Health Exams:
  HIPS     : OFA excellent MF-5527E25M	ELBOW   : DJD left/right normal
	     PennHIP .19 Lt/ .21 Rt	PATELLAS: MF-PA848/25/M/P-PI
  EYES     : eye exam 9/05		HEART   : OFA MF-CA718/25M/P-PI
  THYROID  : OFA MF-TH429/25M-PI	vWD     : normal
  PRA DNA  : homzygous normal
Temperament: not tested
  ATTITUDE TOWARD OTHER DOGS    : friendly
  ATTITUDE TOWARD STRANGERS     : friendly
  ATTITUDE TOWARD NEW SITUATIONS: curious / at ease

Pedigree:
							*Ch. Acorn Hill Uther Pendragon
			-Ch. Agape's Allshookup At Newgate
			  OFA MF3008E25M,OFEL,CERF	-Ch. High Country Agape Scarlett, CGC
  SIRE: Redgate Emperors Waltz
							*Ch. Oakwood's Wrightous Rocky
			-Ch. Rock Solid's Haven Of Redgate
			  OFA MF3118G27F,OFEL,PRADNA	-Rock Solid's Red Rocks

							-Ch. Brite Star's Dual Image, CGC,TDI
			-Brite Star's Redgate Crusader
			  OFA MF2875G24M,OFEL,PRADNA	-Ch. Brite Star's Wild Thing
  DAM:  Intl.Am.Ch. Monumental Stonegate Scarlet
	 OFAe MF4213E24F,PRADNA				*Ch. Oakwood's Wrightous Rocky
			-Rock Solid's Monumental Elvira
			  OFA MF3546G38F,OFEL,CERF	-Rock Solid's Red Rocks

Comments: 8/07
Maestro is a wonderful dog with the cleanest movement I have ever seen in my life. His head is to die for. He has always been wonderful with his pups and lives with a large group of mastiffs here on our farm.
He had the great misfortune of being born the same time as the winningest mastiffs of all times. Because of this timing it seemed more prudent to Special his daughters (Angel) Intl.Am.Ch. Redgates Queen Annes Lace and on the east coast (Luna) Ch. Redgates Gryphondor Moonlight. Both of these girls spent time in the Top 20 last year racking up some tremedous wins. Angel was invited to Eukanuba twice and received an AOM in 2005 and at AOM and Best Bred By Exhibitor in 2006. Angel is currently qualified for this year also. Another daughter (Fancy) Redgates Fine China will finish in the next couple of shows and has caught the eye of many a BIS breeder, who felt compelled to sing her praises.
His offspring have consistently had exceptional Heads, Rears and Movement.
Maestro is available to tested bitches of merit.
Maestro is quite capable of natural breeding but is also available for fresh chilled and frozen semen, for those who don't like to travel.

Published Full Siblings
  Magnums Sir Rockafellar OFAg24,OFEL

Published Offspring
  Ch. Redgates Fine China
  Ch. Redgate Gryphondor Moonlight OFAg24,OFEL
  Intl.Am.Ch. Redgates Queen Annes Lace

Owner:
  NAME       : Dana Moeller
  E-MAIL     : redgatemastiffs@webtv.net
  KENNEL NAME: Redgate Mastiffs
  ADDRESS    : Greely, CO 80631-9720
  PHONE      : (970) 353-4320
Breeder: