Celestial Dominic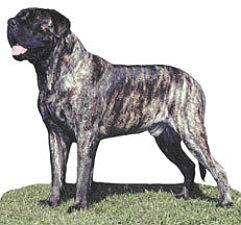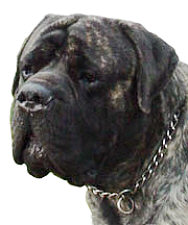 AKC#: WP954034/04     BORN: 12/17/1999     PROVEN: yes
Description:
  COLOR     : brindle			WHITE MARKINGS: none
  MASK      : standard, black ears	COAT          : short
  HEIGHT    : 33.5"			WEIGHT        : 220
  BITE      : level			EYE COLOR     : dark
  BONE SIZE : huge			TAIL          : standard
  ANGULATION: over angulated		NAILS         : all black
Health Exams:
  HIPS    : OFA Prelim GOOD, PennHIP 90% (left DI 0.35) (right DI 0.37) @ 19 months
  ELBOW   : OFA Prelim Clear
  EYES    : CERF MF-2027/2000--6		HEART: OFA MF-CA00478/19M/P-PI
  THYROID : normal				vWD  : normal vWF: 90%
  PATELLAS: OFA MF-PA00588/19/M/P-PI		CYSTINURIA: UPenn Negative 10/17/2000
  PRA DNA : Homozygous Normal (clear)
Temperament: 
  ATTITUDE TOWARD OTHER DOGS    : friendly
  ATTITUDE TOWARD STRANGERS     : aloof
  ATTITUDE TOWARD NEW SITUATIONS: aloof

Pedigree:
							-Ch. Iron Hills Paint Your Wagon
			-Ch. Iron Hills InTo The Night
			  OFA MF2277G34M-T,OFEL,CERF	-Kara Stonehage
  SIRE: Ch. Iron Hills Doorman To Mt Moriah
          OFA MF3850E24M-T,OFEL				-Am.Can.Ch. Matts Joshua Of Dogwood Knoll
       			-Ch. Iron Hills Little Earthquake
			  OFA MF3056G30F-T,OFEL		-Ch. Iron Hills Fixin To Start

							-Ch. Deer Run Semper Fi Thor, CD
			-Ch. Semper Fi Groppetti Gargoyle
			  OFA MF2046G25M		-Deer Run Semper Fi Kerra, CD
  DAM:  Ch. Lionsire Celestial Seraphim, CGC
          OFA MF3050G45F-T,OFEL,CERF			-Ch. Lionsire Grizz
        		-Lionsire Midnight Mischief
							-Ch. Lionsire Maude Of Deer Run

Comments: 10/01 - NO LONGER AVAILABLE AT STUD
Dominic is major pointed. Will return to showing in Spring 2002. Personality can best be described as a marshmallow with no agressive tendencies to dog or human.
Certified sperm count 800 million, 85%motility normal fast speed.
PRA DNA test to be done in very near future.
More photos, gaiting video and visual pedigree of Dominic can be seen on his web page http://www.celestialmastiffs.com/dominic.html.

Published Full Siblings:
  Celestial Anne CERF
  Celestial Gabriel PRADNA
  Celestial Virginia CERF

Published Offspring:
  St James Bella Donna
  St James Lady Gabrielle Caron OFAg31,OFEL
  J farms Mr. Big Stuff OFAg25,OFEL

Owner:
  NAME   : Eileen & Michael Durante
  E-MAIL : mastiff@ptd.net
  KENNEL : Celestial Mastiffs
  ADDRESS: PO Box 436,  Lehighton, PA 18235-0436
  PHONE  : (484) 262-4032
Breeder: owners