Ch. Pax River Dozer By Sidetrack, CGC,TDI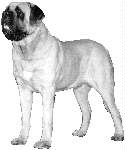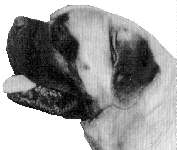 AKC#: WG502354    BORN: 5/19/1990    PROVEN: yes
Description:
  COLOR     : fawn			WHITE MARKINGS: chest
  MASK      : standard, black ears	COAT          : medium
  HEIGHT    : 35			WEIGHT        : 250
  BITE      : slightly undershot	EYE COLOR     : dark
  BONE SIZE : large			TAIL          : standard
Health Exams:
  HIPS     : OFA MF-1196E25M		ELBOW: OFEL MF-256
  EYES     : CERF MF-446/95-64
  THYROID  : normal			vWD  : unknown
Temperament: CGC, TDI
  ATTITUDE TOWARD OTHER DOGS    : friendly
  ATTITUDE TOWARD STRANGERS     : friendly
  ATTITUDE TOWARD NEW SITUATIONS: at ease

Pedigree:
					-Ch. Deer Run Zachary
			-Deer Run Jason
					-Ch. Deer Run Fanny Mae
  SIRE: Ch. Deer Run River Bull
					-Ch. Deer Run Wycliff
			-Deer Run Ragtime
					-Deer Run Tulla Le Mar

					-Ch. Deer Run Rocky Hill Thor
			-Rocky Hill Alexander
					-Ch. Deer Run Countess Inez
  DAM:  Ch. Sidetrack Farm Beatrice
					-Ch. McKaye's Oliver Wingate
			-Ch. Sidetrack Farm Mighty Mag
					-Ch. Bells Of Bow Nellie Kelly

Comments: 5/96
"Dozer's" strongest point is his temperament. He makes friends everywhere we take him (kids are his favorite). The majority of his offspring seem to have inherited this love of life, and normally adjust well to new situations.
In the show ring Dozer was BOS Sweepstakes at the 1990 MCOA National Specialty in Tampa, Florida. He was used at this show in the judges seminar as an example of head type.
Dozer finished his championship quickly, taking BOB from the classes.
His best litters have been from wide bodied bitches with moderate to good angulation. He has improved head type and produced size in all litters to date.
With most of his puppies yet to grow up, his championship offspring include:

    Ch. Greystone's Beau Enchanted ACR
    Ch. Pax River Warlord's Fortune
    Ch. SG Dogwood Sugar Shack Willy
    Ch. SG Dogwood Rebel Warrior
    Ch. Birnam Rock Echo Of Pax River
    Ch. Greystone's Pretty In Pink
    Ch. Pax River Epic Warlord
    Ch. Pax River Rajun Attitude

Several more are pointed and on their way to championships. Dozer's sire Ch. Deer Run River Bull, and his half brother Ch. His Majesty's Lion Of Judah are both MCOA Hall Of Fame sires. Dozer should achieve Hall Of Fame distinction in 1996.

Published Offspring:
  Ch. Birnam Rock Echo Of Pax River
  Dion's Pax Brampton
  Ch. Dogwoods Emperor Constantine
  Dogwoods Ms. Molly OFAg25,OFEL,CERF
  Ch. Greystone's Beau Enchanted ACR OFEL
  Ch. Greystone's Pretty In Pink
  Iron Hills Samson
  Lamar's Gradenator CERF
  Lamar's Midnight Mezmorelda CERF
  Ch. Medallion Ebony Of Pax River
  Ch. Medallion Got It Right OFEL,CERF
  Medallion Jumpin' Jack Flash OFAf24,OFEL,CERF
  Medallion Pizazz CERF
  Medallion Plantation Edithall CERF
  Nittany's Angel Eyes CERF
  Nittany Bullet WButterflyWings CERF
  Nittany's No Quarter By Dozer CERF
  Pax River Bull Zena
  Pax River Crystal Medallion OFAg39
  Ch. Pax River Double Trouble OFAf33
  Ch. Pax River Epic Warlord OFAg26,OFEL
  Pax River Helon Wheels OFAf33
  Pax River Lamar's Evelyn OFAg24,OFEL,CERF
  Ch. Pax River Rajun Attitude
  Pax River Roxcee
  Ch. Pax River Tyrell Sacket
  Ch. Pax River Warlord's Fortune OFAg41,OFEL
  Sarabi
  Ch. SG Dogwood Rebel Warrior
  Ch. SG Dogwood Sugar Shack Willy
  ZZ's Andromeda Of Pax River OFAg28
Published Full Siblings:
  Ch. Dame Vogue Of Sidetrack
  Sidetrack Farm Georgy Girl

Owner:
  NAME       : Karl & Mary Greve
  KENNEL NAME: Pax River
  ADDRESS    : 2491 Mullinix Mill Rd,  Mt. Airy, MD 21771
  PHONE      : (301) 831-5356
Breeder: owner