Intl.Am.Ch. Kinsmen's Dragon of the Knight, TT,CGC,TDI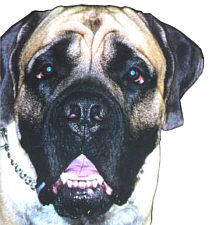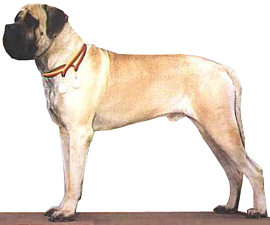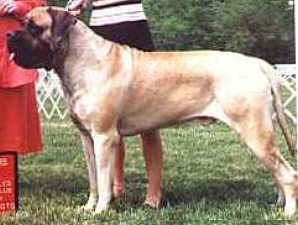 AKC#: WP907175/02   BORN: 4/12/1999   PROVEN: no
Description:
  COLOR     : fawn			WHITE MARKINGS: none
  MASK      : standard, black ears	COAT          : short
  HEIGHT    : 33			WEIGHT        : 180
  BITE      : scissors			EYE COLOR     : dark
  BONE SIZE : large			TAIL          : short
  ANGULATION: moderate			NAILS         : all black
Health Exams:
  HIPS      : OFA MF-4536G25M-NOPI	ELBOW         : MF-EL01837-NOPI
  EYES      : eye exam			PATELLAS      : MF-PA00550/25/M/P-NOPI
  THYROID   : normal			vWD           : unknown
  HEART     : unknown			Cystinuria    : normal 5/14/00
  PRA DNA   : clear by parentage
Temperament: TT,CGC,TDI
  ATTITUDE TOWARD OTHER DOGS     : tentative / friendly
  ATTITUDE TOWARD STRANGERS      : friendly
  ATTITUDE TOWARD NEW SITUATIONS : curious / bold / at ease
Pedigree:
							-Ch. Windhaven Boris
			-Am.Can.Ch. Windhaven Crusader, CGC
			   OFA MF1167G32M,OFEL,CERF	-Ch. Windhaven Panzer's Panache
  SIRE: Ch. Macwoo Knight in Shining Armor CD, CGC,TDI
	  OFA MF2509G24M-T,OFEL,CERF,PRADNA		-Can.Ch. Yarraville Friar MacTuck
			-Can.Ch. Lady MacDuff Of Doneright, TT
			   OFEL,CERF			-Can.Ch. Windhaven Tuck's Buxom Babe

							-Am.Can.Ch. Matts Joshua Of Dogwood Knoll
			-Iron Hills Crazy Horse
			   OFA MF3109G32M-T,CERF	-Ch. Iron Hills Fixin To Start
  DAM:  Ch. Iron Hills Gwen At Kinsman, CD,CGC,TDI
	  CERF,PRADNA					-Ch. Iron Hills Big Easy Of Semper Fi
			-Ch. Iron Hills Sea Grape
			  OFA MF2602G41F,OFEL,CERF	-Iron Hills War Bonnett

Comments: 8/01
Draco is a wonderful dog, he finished his Championship with all majors. He is very active, as he is working in obedience, carting and spends lots of time as an ambassdor for the breed. He has an outstanding temperament, and zest for life. He resembles his Grandfather, Spike and therefore has won a special place in my heart. His sister is also a finished Champion and his only other brother is well on his way.
Draco is currently finishing up his testing as we are working on getting him a Gold Level Health Certificate. His mother was the 2000 MCOA Novice Obedience Collar Award Winner. Draco has inherited her love of both show rings.
Draco is available selectively to approved bitches who have been minimally tested for hips, eyes and elbows.

Published Full Siblings:
  Ch. Kinsmen Lady Of The Laik OFAg26,OFEL,CERF

Owner:
  NAME       : Linda M. Hayes & Mary Lynn Speer
  E-MAIL     : mspeer@baldwin-telecom.net
  KENNEL NAME: Kinsmen Mastiffs
  ADDRESS    : 2346 140th Ave,  Glenwood City, WI 54013
  PHONE      : (715) 265-7800
Breeder: M. Speer