Am.Can.Int.Ch. Foxglove Classic Double-Take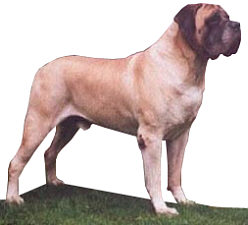 AKC#: WP568977/01     BORN: 7/2/1994     PROVEN: yes
Description:
  COLOR     : fawn			WHITE MARKINGS: none
  MASK      : standard, black ears	COAT          : short
  HEIGHT    : 33			WEIGHT        : 226
  BITE      : scissors			EYE COLOR     : medium
  BONE SIZE : large			TAIL          : standard
  ANGULATION: moderate			NAILS         : all black
Health Exams:
  HIPS     : OFA MF2525G30M-T, prelim excellent	ELBOW: OFEL MF-EL546-T
  EYES     : CERF MF-678/97-33&53&67
  THYROID  : normal (hemopet 3/98)	vWD  : normal vWF:Ag: 132%
  PATELLAS : OFA MF-PA90/30/M-T
Temperament: not tested
  ATTITUDE TOWARD OTHER DOGS    : friendly
  ATTITUDE TOWARD STRANGERS     : friendly
  ATTITUDE TOWARD NEW SITUATIONS: at ease

Pedigree:
								-World,Am.Ch. Groppetti Wallon, TT
				-Ch. Wrightous Wide Body Tanker, CD,TT
				   OFA MF792G24M,CERF		-Iron Hills Cessie
  SIRE: Ch. Eldorado Rebel W/Out A Pause, CD,WD,TT,CGC
          OFA MF1024G24M-T					-Ch. Gulph Mills Legendary Caesar, CD
          OFEL, CERF		-Ch. Legendary Fannie Flaunts It, CD,TT
				   OFA MF896G55F,CERF		-Ch. Deer Run Castlekeep Legend, CD

								-Ch. Beowulf Of Wheelers Knoll, CD
				* Am.Can.Int.Ch. Foxglove Won't Be Denied, CGC
				   OFA MF1267G24M,OFEL,CERF	-Am.Can.Ch. Gulph Mills Marjorie, CD,CGC
  DAM:  Foxglove Classic Denial, CGC
          OFA MF1853G33F					-Barclay Carlisle Owens
	  CERF			-Nachtmusik Avalon Lady Annwn, CD
				   OFA MF1415G39F,OFEL,CERF	-Ch. Summer In Brady Montanna

Comments: 4/98
Drake is a very sweet, calm mastiff. He has no malice for anything. He is great with everyone and everything, and passes on his gentle nature.
Things I would improve on Drake would be a little more angulation (front and rear), although he's better than most and very balanced. I would like a little more length of back.
Good points - great personality, wonderful expression, clean and classic head, dark eyes, scissor bites, great topline, very muscular and powerful. He is a truly large mastiff. He produces excellent babies, very elegant and large, with fun, outgoing temperaments. Most are well-angulated, nice square fronts and rears, powerful chests, nice heads, clean and classy.
His most recent photo is in the MCOA Journal volume 1, 1998. We always require of bitches that they be OFA, OFEL, CERF, vWD and thyroid normal.

Published Offspring:
  Ch. Foxglove
  Foxglove Big Ben OFAf34,OFEL
  Ch. Foxglove Big Boy Blue
  Ch. Foxglove Classic Elegance OFAg38,OFEL
  Foxglove Just One Look OFAg25,OFEL,CERF
  Foxglove Limited Edition OFAg26,OFEL,CERF
  Ch. Foxglove Penny For Luck CERF
  Ch. Foxglove Savanna Of Axtell, CD CERF
  Ch. Foxglove Spirit Of Eldorado OFAg26,OFEL,CERF
  Foxglove Take Everything OFAe32,OFEL,CERF
  Iryshe Maggie Malone OFAf42,OFEL,CERF

Published Full Siblings:
  Foxglove Graceful Eye Opener OFAg24,OFEL,CERF21
  Ch. Foxglove Windsong's Harley D OFAg28,OFEL,CERF34
  Ch. Tyrolian Nicolai Za Mihova OFAg28,OFEL
  Ch. Tyrolian Waltzing Matilda OFAg24,OFEL,CERF27

Owner:
  NAME       : Laura & David Hagey
  E-MAIL     : foxglove@epud.net
  KENNEL NAME: Foxglove Mastiffs
  ADDRESS    : PO Box 572,  Springfield, OR 97477
  PHONE      : (541) 744-8169
Breeder: L. Hagey & C.&B. Budmayr