Darksides Battle Wagon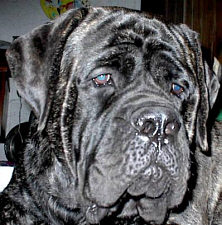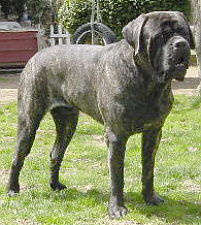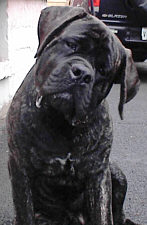 AKC#: WP961525/01     BORN: 7/22/1999     PROVEN: yes
Description:
  COLOR     : brindle			WHITE MARKINGS: none
  MASK      : standard, black ears	COAT          : short
  HEIGHT    : 32"			WEIGHT        : 190
  BITE      : overshot			EYE COLOR     : dark
  BONE SIZE : medium			TAIL          : standard
  ANGULATION: straight			NAILS         : all black
Health Exams:
  HIPS    : OFA MF-4614G24M-PI		ELBOW: OFEL MF-EL1883M24-PI
  EYES    : 				HEART: unknown
  THYROID : unknown			vWD  : unknown
  PATELLAS: unknown			CYSTINURIA   : unknown
  PRA DNA : unknown
Temperament: 
  ATTITUDE TOWARD OTHER DOGS    : 
  ATTITUDE TOWARD STRANGERS     : friendly
  ATTITUDE TOWARD NEW SITUATIONS: curious

Pedigree:
							*Ch. Acorn Hill Uther Pendragon, CGC,TDI
			Ch. Acorn Hill Silent Knight
			  OFA MF1905E27M,CERF		-Ch. Lionsire Indigo Of Pax River
  SIRE: Ch. Acorn Hill Nite To Remember, CGC
          OFA MF3491G24M,OFEL,CERF			-Ch. Iron Hills Warwagon
       			-Ch. Acorn Hill Mountain Laurel
			  OFA MF1558G34F-T,CERF		-Arrabelle Of Acorn Hill, CD,TDI

							-Ch. Deer Run Semper Fi Thor, CD
			-Ch. Iron Hills Portfolio
			  OFA MF2111G32M-T		-Ch. Iron Hills Earned Interest
  DAM:  Darksides Tynygors Sexy Sadie
          OVC hips&elbows,CERF				-Ch. Iron Hills Once Upon A Wagon
        		-Ch. Iron Hills Color My Wagon
							-Caledonia Lady Di

Comments: 1/02
Sam is a very dark black brindle boy with a short coat that is extremely shiny and in great condition. His head is his outstanding asset, the ideal mastiff head type catches your eye immediatly. The ratios, planes, and angles are all correct with a very broad flat skull, with marked wrinkles and extremely dark pigment. Sam's facial expessions vary from very serious to silly to intense. He is a very sweet boy at home and gets along great with all our other dogs, both male and female.
He passes on his very dark brindle coloring and dark pigment to all his offspring. He does not seem to pass on any of his faults. Sam's pedigree includes many top producers, MCOA specialty winners, number one mastiffs, and Bucks winners.
Desire bitches who are moderate to over angulated, OFA hips and elbows.

Published Full Siblings:
  Darkside Off The Wagon

Co-Owner:
  NAME   : Lisa Gannon		E-MAIL : medievalmastiff@hotmail.com
  KENNEL : Medieval Mastiffs
  ADDRESS: 34 Rollins Ave,  Pearl River, NY 10965
  PHONE  : (845) 735-0904
Co-Owner:
  NAME   : Lisa Edwards-Filu	E-MAIL : DarksideL@aol.com
  KENNEL : Darkside Mastiffs
Breeder: L. & A. Filu & B. Hughes