Ch. Britestar's Dueling Desperado, CGC,TDI,TT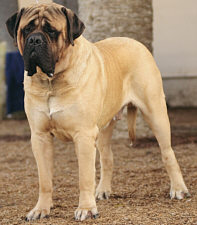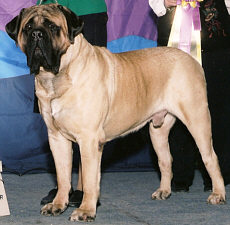 AKC#: WS23244101    BORN: 6/24/2007   PROVEN: yes
Description:
  COLOR     : fawn			WHITE MARKINGS: none
  MASK      : standard, black ears	COAT          : short
  HEIGHT    : 32			WEIGHT        : 215 lbs
  BITE      : revcerse scissors		EYE COLOR     : dark
  BONE SIZE : huge			TAIL          : standard
  ANGULATION: moderate			NAILS         : mostly black
Health Exams: 
  HIPS      : OFA MF-7642F24M-VPI	 OFEL    : OFA MF-EL4248M24-VPI
  EYES      : MF-3914			 HEART	 : OFA MF-CA2118/31M/C-VPI
  THYROID   : OFA MF-TH1174/37M-VPI	 PATELLA : 
  CYSTINURIA: normal 5/30/2010 & 5/10/08 VWD	 :
  PRA DNA   : OFA MF-PRA1007/11M-VPI
Temperament: CGC,TDI,TT
  ATTITUDE TOWARD OTHER DOGS    : aloof
  ATTITUDE TOWARD STRANGERS     : aloof
  ATTITUDE TOWARD NEW SITUATIONS: at ease

Pedigree:
							-Ch. Iron Hills Lucca Brazzi
			-Ch. Britestar's Kodiak Bandit
			| OFA MF5568G24M,OFEL,CERF	-Britestar's Image Of An Angel
  SIRE: Ch. Wildrose Music Man, CGC,TDI
	  OFA MF6968F35M,OFEL,CERF			-Ch. Brite Star's Dual Image, CGC,TDI
			-Goldleaf Pennys From Heaven
			  OFA MF4638G24F,OFEL		-Goldleaf Sweet Lorraine

							-Am.Can.Ch. Moonstone's Nobelest Rasputin
			-Ch. Pleasant View Of Moonstone
			| OFA MF4371G27M,OFEL		-Brite Star's Daphne
   Dam: Ch. Britestar's Moonlight Serenade
	  OFA MF6654F24F,OFEL,CERF			-Ch. Brite Star's Dual Image, CGC,TDI
			-Ch. Britestar's Sweet Serenade
							-Britestar's House Mouse

Comments: 10/10
Bodie is my first owner/breeder handled champion. He finished his championship at 15 months with 3 majors, ending with a 5 point major out of the Bred By class at the 2008 REMC regional specialty.
He was also won Best Puppy in Futurity at the MCOA specialty in 08. With his sister, Candy, he also helped his mom "Bella" win Best Brood Bitch at the 08 national.
He came out as a special this January (2010) and has been #1 mastiff consistently as of last Canine Chronicle stats of Aug 31st.
Bodie has an extremely typey head, with lots of expression, dark eyes, barely undershot, large bone, excellent movement and beautiful side gait with lots of reach and drive. He has a sweet, easy, playful temperament and is an excellent therapy dog (just like his daddy, Bobby). He is an active dog, runs with me every day, loves the water and long walks on the beach ! Along with all of his other testing, he is also tested negative for the fluffy gene.
He enjoys the show ring and is having fun at rally class, practicing for his next title.
We are expecting his first litter around Dec 1, 2010 Stud service to tested/approved bitches

Owner:
  NAME       : Patti Wilkinson / Barbara House
  E-MAIL     : pwlknsn@att.net / britestarmastiffs@hotmail.com
  KENNEL NAME: RisingStar / Britestar
  ADDRESS    : 14310 Plover Way,  Grass Valley, CA 95949
  PHONE      : (530) 913.9059
Breeder: Patti Wilkinson