Ch. Pendragon Bailiffs Farlough, CGC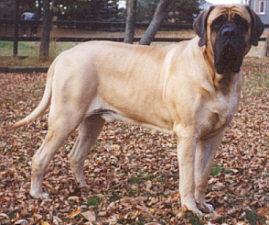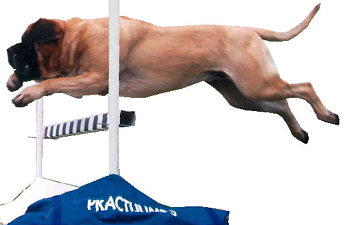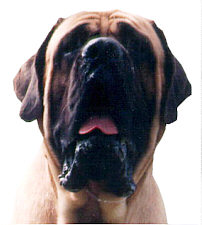 AKC#: WP669727/01     BORN: 12/7/1995     PROVEN: yes
Description:
  COLOR     : golden fawn		WHITE MARKINGS: none
  MASK      : standard, dark ears	COAT          : short
  HEIGHT    : 35			WEIGHT        : 241
  BITE      : slightly undershot	EYE COLOR     : dark
  BONE SIZE : large			TAIL          : standard
  ANGULATION: moderate			NAILS         : all black
Health Exams:
  HIPS      : OFA MF-3046G38M-T 	ELBOW     : OFEL MF-EL867-T
  EYES      : CERF
  THYROID   : MSU Normal		vWD       : normal vwF:Ag: 99%
  PATELLAS  : MF-PA192/27/M/P-T 	HEART     : OFA MFCA199/35M/P-T
  PRA DNA   : Homozygous Normal (clear) CYSTINURIA: normal
Temperament: CGC
  ATTITUDE TOWARD OTHER DOGS    : friendly
  ATTITUDE TOWARD STRANGERS     : friendly
  ATTITUDE TOWARD NEW SITUATIONS: at ease
Pedigree:
							-Ch. Lionsire Ironhill Warleggen
				-Ch. Iron Hills Warwagon
				   OFA  MF1041G60M	-Ch. Iron Hills Elbereth
  SIRE: Ch. Acorn Hill Uther Pendragon, CGC,TDI
	  OFA MF1158G24M,OFEL,CERF			-Ch. Deer Run Ivan
				-Arrabelle Of Acorn Hill, CD
							-Deer Run Lucrich

							-Ch. Meadows Ian MacFawn
				-Ch. Meadows Maxwell MacFawn, TT
				   OFA  MF821F24M-T	-Ch. Meadows Goldie Hawn
  DAM: Lady Lindsay Of Wyndehaven
	  OFA MF105F24M,OFEL,CERF			-Salt River Sport Of Sur-Win
				-Sur-Win's Queen Of Sheba
							-Sur-Win's Dark Princess

Comments: 1/02, 10/03
Farlough has an excellent mind, a soft and gentle disposition. He is a big dog without being coarse with a large pretty head. One of his greatest strengths is his movement front and rear with excellent reach and drive. Whether you watch him coming and going or from the side he is a beautiful mover and tremendous athlete. He also has a muscled athletic body, ironing board topline, and round tight feet and toes. Farlough exhibits remarkable intelligence and loyalty to his owner. Farlough is not a couch potato. He needs to be used and useful, which reflects the heritage of the true working dog.
Farlough has sired several litters of 10+ puppies and seems to sire half male/half female litters. His fresh chilled has sired as many as 11 puppies, and frozen has produced a litter of 15. We have an ICG certified facility nearby to ship chilled semen. Farlough is also a multiple Best of Breed winner. For fun, Farlough does agility, is trained in Draft Dog work and is working towards his C.D. Fresh Chilled and frozen semen available.
Many of Farlough's offspring are at the age where we can honesty see what Farlough is able to produce. His progeny consistently display his ironing board topline his outstanding movement as well as his size and balance. Farlough has proven his ability to pass these traits on even when being breed to a total outcross.
Chilled semen available.

Published Photos:
  MCOA Journal, 1998#3	MCOA Journal, 1999#1
  MCOA Journal, 2001#1	MCOA Journal, 2001#4

Published Offspring:
  Calgar E's Genesis
 *Ch. Calgare's Krarismas Draconis OFAf26,OFEL
  Emily Bumblebee McGee OFAg28,OFEL
  Ch. Greystone's Code of Honor
  Greystone's Sadie Big Girl
  Lyonhurst Sir Drake, CDX,CD,CGC OFAf24,OFEL
  Ch. Systo's Bubbles La-Boom Boom
  Ch. Systo's Ta-Tonka Tuff

Published Full Siblings:
  Khaki Kegley OFAg24
  Pendragon Attn To Detail
  Ch. Pendragon Cara Del Sol OFAf27,OFEL,CERF
  Pendragon Dakota Beau
  Ch. Pendragon Leona Dillarez, CGC,TDI OFAg29,OFEL,CERF
  Pendragon Peach Blos'm Special
  Ch. Pendragon Sir Einstein CERF
  Pendragon Sir Norby Of Hollymont
  Pendragon Tazmanian Ike
  Ch. Pendragon's WYSIWYG WUHFGUDE, CGC OFAg26,OFEL,CERF

Owner:
  NAME       : Joyce Tyrpak
  E-MAIL     : bailiff@netnitco.net
  KENNEL NAME: Bailiff Mastiffs
  ADDRESS    : 32 San Fernando Dr,  Hebron, IN 46341
  PHONE      : (219) 988-2972
Breeder: S. Krauser