Ch. Fantasy's Dark Side of Daydreams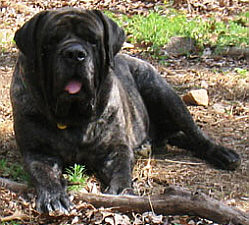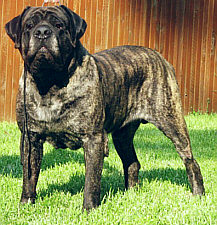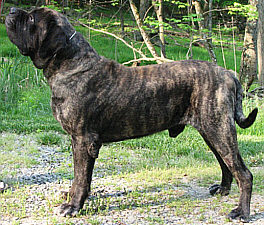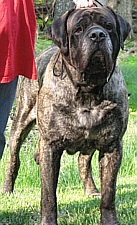 6 years

  AKC#: WR01503204     BORN: 1/29/2001     PROVEN: yes
Description:
  COLOR     : brindle			WHITE MARKINGS: none
  MASK      : standard, black ears	COAT          : short
  HEIGHT    : 30 inches			WEIGHT        : 185 lbs
  BITE      : slightly undershot	EYE COLOR     : dark
  BONE SIZE : huge			TAIL          : standard
  ANGULATION: moderate			NAILS         : all black
Health Exams: 
  HIPS      : OFA MF-6142G47M-PI	ELBOW	: Degenerative Joint Disease I Unilateral Right at 47 months
  EYES      : CERF MF-2913		HEART	: OFA MF-CA969/47M/C-PI
  THYROID   : 				PATELLA	: 
  CYSTINURIA: normal			VWD	:
  PRA DNA   : homzygous normal, 05-5924
Temperament: not tested
  ATTITUDE TOWARD OTHER DOGS    : friendly
  ATTITUDE TOWARD STRANGERS     : friendly
  ATTITUDE TOWARD NEW SITUATIONS: at ease

Pedigree:
							-Ch. Deer Run River Bull
			-Ch. His Majesty's Lion Of Judah
			  CERF				-Ch. Deer Run Glory To God, CD,CGC,TDI,WD
  SIRE: Ch. Pinewoods His Maj. Holy Moses
	 OFA MF2441E24M,OFEL,CERF			-Ch. Damaria the General
			-Ch. Pinewoods One Day At A Tyme
							-Ch. Windy Hill's Step Aside Girls

							-Ch. Fantasy's Legend Of Drago
			-Ch. Fantasy's Muscleman V Gloribee
							-CA's Lunar Eclipse
  DAM:  Ch. Gloribee Fantasy Back In Black, CGC
	 OFA MF3813G29F,OFEL				-Ch. Acorn Hill Silent Knight
			-Gloribee Lakesides D'Vine Ms M
			  CERF				-Ch. Deer Run Lakeside's Intrepid

Comments: 5/07
Sinatra is the whole package. He exudes true Mastiff type, correct/strong movement, is an extremely easy keeping/healthy Mastiff, and has a rock solid temperament. To know Sinatra is to love Sinatra - he is a great big, snuggly, teddy bear! Going on 7 years of age, Sinatra has the stamina and movement of a 2 year old - very impressive for such a typey boy.
A multiple Best Of Breed (BOB) winner, Sinatra came away with the honor of being BOB at the 2005 Somerset Kennel Club Supported Entry show under UK Breeder Judge Mr. Raymond Boatwright (owner handled)! He is also sire to the back-to-back Winners Bitch for two 5 point majors at the famous Bucks & Trenton Supported shows in 2005, judged by two prestigious UK Breeder Judges.
Sinatra is available to bitches of merit. Fresh chilled and frozen semen available.

Published Siblings:
  Ch.  Fantasy's DDA Tribal Magic OFAg28,OFEL,CERF
  Ch. Fantasy's DDA Thunderstruck
  Ch. Fantasy's DDA Stonehenge
  Ch. Fantasy's DDA Silent Siren OFEL
  DDA FNTSY MO's Shining Star OFAg33

Published Offspring:
  Ch. Fantasy's Arcangel OVChips,OFEL,CERF,PRADNA




Owners:
  NAME       : Kristen Dixon & Melody Fuller
  E-MAIL     : Kristen@edixons.com
  KENNEL NAME: Muddy Creek Mastiffs
  KENNEL NAME: Fantasy Mastiffs
  ADDRESS    : Front Royal, VA 22630
  PHONE      : (540) 636-3561
Breeder: David & Melody Fuller