Ch. Castle Creek July's Royal Flush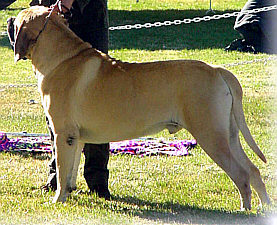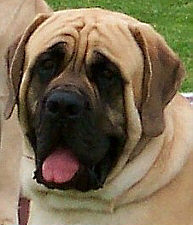 AKC#: WR071866/03     BORN: 7/27/2002     PROVEN: yes
Description:
  COLOR     : fawn			WHITE MARKINGS: none
  MASK      : standard, light ears	COAT          : short
  HEIGHT    : 32.5			WEIGHT        : 215
  BITE      : slightly undershot	EYE COLOR     : dark
  BONE SIZE : huge			TAIL          : standard
  ANGULATION: moderate			NAILS         : mostly black
Health Exams: 
  HIPS    : OFA MF-6038G28M-PI and Prelim Good	ELBOW     : OFEL DJD I and Prelim Clear
  EYES    : CERF MF-26077/2003--14,CMR clear	CYSTINURIA: normal 5/2008
  THYROID : 					vWD       : 
  PATELLAS: OFA MF-PA829/28M/P-PI		CARDIAC   : OFA MF-CA700/28M/P-PI CARDIAC 
  PRA DNA : Clear By Parentage
Temperament: 
  ATTITUDE TOWARD OTHER DOGS    : friendly
  ATTITUDE TOWARD STRANGERS     : friendly
  ATTITUDE TOWARD NEW SITUATIONS: at ease

Pedigree:
							-Ch. Deer Run Semper Fi Thor, CD
			-Ch. Iron Hills Portfolio
			  OFA MF2111G32M-T		-Ch. Iron Hills Earned Interest
  SIRE: Am.Can.Ch. Iron Hills Under The Influence
	  OFA MF3388G24M-T,OFEL,CERF,PRADNA		-Ch. Sillar's K.O. Tyson
			-Iron Hills One Drink Limit
			 				-Ch. Iron Hills Spill The Wine

							-Ch. Semper Fi Groppetti Gargoyle
			*Ch. Groppetti Lord Henry Of MMRB
			  OFA MF3301G28M,OFEL,CERF	-Deer Bubbles
  DAM: Ch. Castle Creek Show Me Sheila
	  OFA MF3866G24F-T,CERF,PRADNA			-Ch. Sillar's K.O. Tyson
			-Ch. Castle Creeks Ce-Ce Casandra
			 				-Ch. Cee Cee Sharmaine

Comments: 10/05
J.R. was breeder/owner handled 100% to his Championship. J.R. finished his Championship title out of the Bred by Exhibitor class at the age of 19 mos old.
J.R.has a outstanding pedigree to share with the right girl. There are only 2 bitches that are NOT championed in his 3 generation AKC pedigree. And many more Champions after that.
J.R. has smooth movement, is 4-square in conformation and has nice rounded feet for his size. J.R. is very deep chested and well angulated. He is friendly with other dogs and people. He was prelimed at 12 mos and his results were Good hips and normal elbows. At 28 mos his hips are Good and elbows showed DJD 1 (small amount of arthritis) but his anconeal process is normal and complete.
J.R is very active and loves to swim, go for long walks and rides in the car. He is a wonderful companion to our family.
He has been DNA tested for coat length and is N/N - in otherwords he does NOT carry the fluffy gene.
Requirements for Bitches are: AKC registered and have nice conformation and temperment. OFA hips/elbows and must be PRA DNA free.
Frozen or Chilled Semen is available. DNA profile # V297261

Owner:
  NAME       : Valerie Thomas
  E-MAIL     : terry5292@sbcglobal.net
  KENNEL NAME: Castle Creek Mastiffs
  ADDRESS    : P.O. Box 1918 Beaver, Utah 84713
  PHONE      : (760) 855-0365
Breeder:  owner