Ch. Night Stalker Prairie Buffalo Geronimo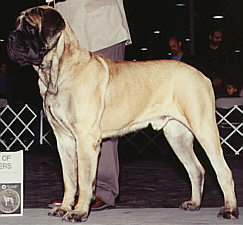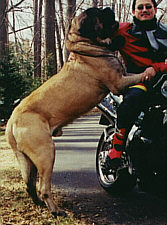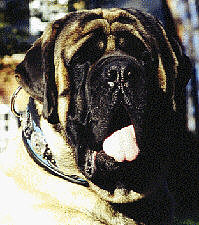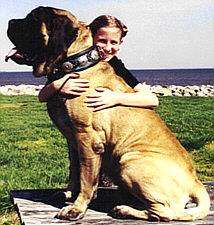 AKC#: WP792096/03     BORN: 4/30/1997     PROVEN: yes
Description:
  COLOR     : fawn			WHITE MARKINGS: none
  MASK      : standard, black ears	COAT          : short
  HEIGHT    : 32 1/2 			WEIGHT        : 198 lbs
  BITE      : undershot			EYE COLOR     : dark
  BONE SIZE : huge			TAIL          : standard
  ANGULATION: moderate			NAILS         : all black
Health Exams:
  HIPS    : OFA MF-3676G26M		ELBOW  : OFEL MF-EL1269
  EYES    : CERF CERF MF1430/20001-45	CYSTINURIA: normal
  THYROID : OFA MF-TH124/26M		vWD    : normal
  PATELLAS: OFA MF-PA/49/M/P-T		CARDIAC: MF-CA00380/44M/C-PI
  PRA DNA : Homozygous Normal (clear)
Temperament: 
  ATTITUDE TOWARD OTHER DOGS    : cautious
  ATTITUDE TOWARD STRANGERS     : friendly
  ATTITUDE TOWARD NEW SITUATIONS: at ease

Pedigree:
							-Ch. Deer Run Ezekiel
			-Ch. Burns Hall Zackery
			   OFA MF1175G42M,CERF		-Ch. Thorchelseaias Noel
  SIRE: Ch. Night Stalker Amadeus
							-Ch. Old School Primo Remo Major
			-Ch. Night Stalker KD Brandybuck
			 				-Night Stalker Abby

							-Ch. Deer Run Semper Fi Thor, CD
			-Ch. Semper Fi Groppetti Gargoyle
			   OFA MF2046G25M		-Deer Run Semper Fi Kerra, CD
  DAM: Ch. Prairie Buffalo Thundercloud
	 OFA MF2480G24F					*Ch. Lionsire Grizz
			-Deer Bubbles
			 				-Deer Run Kayla

Comments: 9/01 1/04
Geronimo is an awesome "YOUNG" dog! He has a fabulous massive head, a board top line, great bone, a powerful mover with a wonderful temperament and a sweet disposition. He has been awarded the Mastiff Club of America's Gold Star Health Award. He is as much a showman in the ring as he is a gentleman on the street. After his Award of Merit, at Westminster Kennel Club Dog Show, much notoriety has followed him. Big G was featured on NBC Television and is the star of Dodge Park Chrysler Dealership locally with ads and commercials. This celebrity is just as comfortable being a couch potato at home.
At the MCOA 2003 National Speciality Geronimo's daughter Prairie Buffalo Summer Rain took 2nd in the American Bred class @ 12 months. She is a gorgeous gal with much bone, a lot of leg and a fabulous head.
Available at stud to approved bitches.

Owner:
  NAME       : Myra Nelson
  E-MAIL     : MyPBuffalo@aol.com
  KENNEL NAME: Prairie Buffalo Mastiffs
  ADDRESS    : Upper Marlbora, MD 20774
  PHONE      : (301) 499-8708  FAX: (301) 499-8709
Breeder: owner