Ch. Brija's Gunslinger, CGC,TDI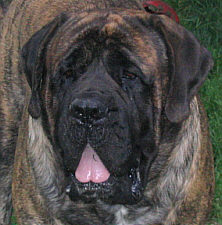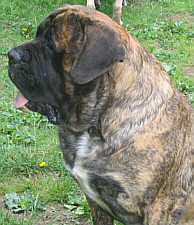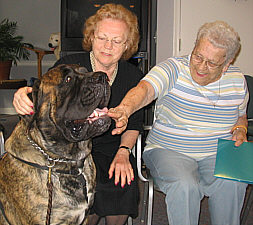 AKC#: WS06964305     BORN: 10/26/2003     PROVEN: yes
Description:
  COLOR     : apricot brindle		WHITE MARKINGS: chest
  MASK      : standard, black ears	COAT          : short
  HEIGHT    : 34			WEIGHT        : 245 lbs
  BITE      : slightly undershot	EYE COLOR     : dark
  BONE SIZE : huge			TAIL          : standard
  ANGULATION: moderate			NAILS         : all black
Health Exams:
  HIPS      : OFA good MF-6463G24M-PI	ELBOW	: OFEL MF-EL3231M24-PI
  EYES      : 				HEART	: OFA MF-CA975/16M/P-PI
  THYROID   : thyroid normal		PATELLA	: OFA MF-PA1093/16M/P-PI
  CYSTINURIA: 				VWD	: 125% normal 
  PRA DNA   : clear by parentage 
Temperament: CGC,TDI
  ATTITUDE TOWARD OTHER DOGS    : aloof
  ATTITUDE TOWARD STRANGERS     : friendly
  ATTITUDE TOWARD NEW SITUATIONS: at ease, curious

Pedigree:
							-Majestiks Warlord Warrior
				*Ch. Nassau Tudor Max
				   OFA MF3274G29M,OFEL	-Nassau Sounds Bailey, CGC
  SIRE: Ch. Madigan's Doc Holiday
	 OFA MF4529G27M,OFEL,CERF			*Ch. Lionsire Sir Nigel Beware ,CD,CGC
				-Lionsire Misty Blue
				  OFA MF3279G24F,OFEL	-Lionsire Gotcha Wrinkles Too

							-Ch. Beowulf's Taylor Made Kodiak Son
				*Am.Can.Ch. Beowulf's Leading Man Bogart
				  CERF			-Am.Can.Ch. Beowulf's The Next Generation, CGC
   DAM: Ch. Brijas Heart Of Stone
	 OFA MF5415G32F,OFEL				*Ch. Albert Hunter Of Jericho, CGC
				-Am.Can.Ch. Beowulf's Brittanys Jingabell
				  OFA MF3855G25F,OFEL	-Ch. Beowulf's Ka Cie Bailey

Comments: 9/06
Wyatt is currently a massive 245lbs - all muscle and heavy bone, and is consistently the largest dog in the show ring. Wyatt also has a very large head, full of expression.
Wyatt has appeared in the MCOA Journal, and he was ranked the number 13 mastiff through the end of May 2005 before being sidelined with growing pains. Wyatt finished 2005 with a bang, winning Best of Breed at the prestigious Kennel Club of Philadelphia's National Dog Show as seen on NBC.
Wyatt has an incredible temperament, which is exemplified in achieving his CGC at 7 months of age, as well as becoming a Certified Therapy Dog. You can see pictures of him doing his therapy work on our website - he really enjoys his work! The executive director of the certifying program was so impressed with Wyatt's temperament, she made him the representative for her therapy dog program on her website! You can find the Gift of Sunshine Website in the links section on our website.
Wyatt's temperament is one of the big reasons a recent puppy buyer bought one of his daughters from us. She first met Wyatt at the Kennel Club of Philadelphia's National Dog Show, where Wyatt was sleeping in the middle of the aisle of this benched show with literally thousands of people and dogs milling around. People were literally stepping over him to get by!!!
Our first litter with Wyatt produced 8 puppies with incredible expression, very large heads and heavy bone. Several of the girls were very close to the boys' weight and size-wise up through leaving at 8 weeks.
Wyatt has an incredibly rich, dark apricot coat, and threw it in 4 out of his 8 pups in our 1st litter. He has more white on his chest than is normally desired, but threw an incredible small amount of white - if any at all, in his pups. We also doubled-up on the white gene as the dam has white on her neck and upper check which blends into her silver-fawn coat.
Testing requirements for bitches of merit: Minimum - OFA Hips and Elbows, and PRA cleared.

Owner:
  NAME       : Matthew and Diane Raudenbush
  E-MAIL     : tammr@epix.net
  KENNEL NAME: Gunslinger Mastiffs
  ADDRESS    : 125 Frogtown Rd,  Ottsville, PA 18942
  PHONE      : (610) 847-8250
Breeder: Janet Cook