Ch. Stony Point's Head of a Warrior, CGC,TDI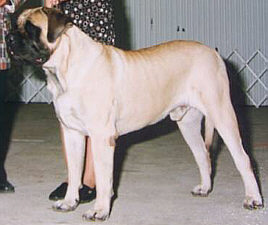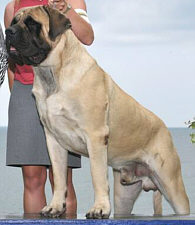 AKC#: WS24859504    BORN: 10/22/2007    PROVEN: yes
Description:
  COLOR     : fawn			WHITE MARKINGS: none
  MASK      : standard, black ears	COAT          : short
  HEIGHT    : 33			WEIGHT        : 200
  BITE      : slightly undershot	EYE COLOR     : dark
  BONE SIZE : huge			TAIL          : standard
  ANGULATION: moderate			NAILS         : all black
Health Exams:
  HIPS      : PennHIP LDI=.21,RDI=.23 OFA prelim excellent
  ELBOW     : OFA prelim clear
  EYES      : eye exam			PATELLA: OFA MF-PA1945/14M/P-VPI
  THYROID   : OFA MF-TH1037/15M-VPI	vWD    :
  CYSTINURIA: normal 2009		HEART  : OFA MF-CA2008/14M/P-VPI
  PRA DNA   : Clear by Parentage
Temperament: CGC,TDI
  ATTITUDE TOWARD OTHER DOGS    : friendly
  ATTITUDE TOWARD STRANGERS     : friendly
  ATTITUDE TOWARD NEW SITUATIONS: at ease

Pedigree:
							-Ch. Beowulfs AttitudeWLatitude
			-Ch. Beowulfs Trademark
			| OFA MF6894G24M,OFEL		-Beowulfs Angel In Disguisech
  SIRE: Ch. Beowulfs Work Of Art
			|				-Ch. Beowulf's Brijas Smuggler
			-Ch. Beowulfs Ropin The Wind
							-Ch. Beowulf's Jamacia Me Happy

							-Am.Can.Ch. Beowulf's Kodiak Pride, CGC
			-Ch. Beowulf's Man About Town
			| OFA MF5047G27M,OFEL,CERF	-Beowulf's Cinder To The Top
   DAM: Beowulfs Blame It On The Rain
			|				-Ch. Golem Ralph E
			-Ch. Beowulfs I Touched The Rain
							-Ch. Beowulf's Dancin in the Rain

Comments: 2/2010
Oscar has a great temperament, he is one of the most laid back mastiffs we have ever met. He completed both his CGC and TDI with very little practice. He loves to go for rides and enjoys going to new places.
Oscar has a very large proportional head, with dark ears and mask. He is a large boy with a very powerful body and a strong, wide rear. His muscles are impressive and his movement is flawless. His movement attests to his sound structure.
He has done some limited BOB showing in 2009, taking 9 wins. He will be showing at Westminster, 2010.
Oscar is available for stud to approved bitches. Frozen/fresh semen available.

Owner:
  NAME       : John & Camron Priest
  E-MAIL     : camronpriest@yahoo.com
  KENNEL NAME: Midknight Mastiffs
  ADDRESS    : 13550 Gibson Rd,  Ashville, OH 43103
  PHONE      : (614) 207-2443
Breeder: Paul Warner/Joyce Warner