Ch. Misty Meadows Fortune Hunter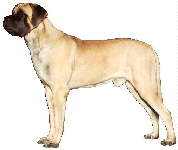 at 14 months

  AKC#: WP655136/09    BORN: 8/25/1995    PROVEN: yes
Description:
  COLOR    : fawn			WHITE MARKINGS: none
  MASK     : standard, black ears	COAT          : short
  HEIGHT   : 32				WEIGHT        : 180
  BITE     : undershot			EYE COLOR     : medium
  BONE SIZE: large			TAIL          : standard
Health Exams:
  HIPS     : OFA MF-3181G34M, Prelim good	ELBOW   : OFEL MF-EL950 and Prelim clear
  EYES     : CERF MF-1192/97-22			PATELLAS: unknown
  THYROID  : unknown				vWD     : unknown
Temperament: not tested
  ATTITUDE TOWARD OTHER DOGS     : friendly
  ATTITUDE TOWARD STRANGERS      : friendly
  ATTITUDE TOWARD NEW SITUATIONS : at ease
Pedigree:
						*Ch. Deer Run Ezekiel
			-Ch. Hedgestones Big Man
			   OFA MF911G30M	-Hedgestone Roxanne
  SIRE: Ch. Enchanted Acres Trust Me
	  OFA MF1599E32M,OFEL,CERF		-Ch. Perry Of Enchanted Acres
			-Ch. Enchanted Acres Raisin Rukus
						-Ch. Jezebelle Of Enchanted Acres

						-Ch. Jai Bee Noble Gateway
			-Ch. Pax River Nemesis
						-Ch. Pax River Genoa
   DAM: Belair's Anna Of Aquia
	  OFA MF1946F28F			-Ch. Lionsire Grizz
			-Ch. Beautiful Babe Of Belair
			   OFA MF1022F24F	-Megan's Our Pride And Joy

Comments: 12/96 NO LONGER AVAILABLE FOR STUD
We feel that Hunter is going to be the best thing that ever happens to our breeding program.
At 15 months, he has 2 four point majors and twelve points, several Best Of Winners and two Best Of Breeds. He has a weekend how in December, so he might be finished as you read this. In January he'll be CERFed and thyroid tested.
Hunter placed fourth in 6-9 month puppy sweeps at the Nationals last May. I really feel he could have done well in the regular classes, but his owner-handler (Rob) partied the night before and overslept.
Hunter flew into our lives at twelve weeks old, three days before our first litter of pups were born. I took off work for a couple of weeks to supervise the nursery. All of the hours not spent on the pups were spent playing with Hunter. He would go to the whelping box whenever Mom was out of it to play with the babies. He's been great with other dogs ever since.
Hunter is a slow maturing dog. He has a wonderful playful personality, a level top line, strong rear, is tightly muscled and moves like a dream. We feel he is a total package.

Published Offspring:
  Badminton's Hercules Fortune OFAe24,OFEL
  Badminton's New Obsession OFAg25,OFEL

Published Full Siblings:
  Canute's Maximum Capacity
  Ch. Misty Meadows Forget Me Not OFAg32
 *Ch. Misty Meadows Four Wheel Drive OFAg30,OFEL
  Ch. Misty Meadows Secret Agent Man

Owner:
  NAME       : Robert and Donna Minton
  E-MAIL     : Badmastiff@aol.com
  KENNEL NAME: Badminton
  ADDRESS    : 5805 Frederick Blvd., St. Joseph, MO 64507
  PHONE      : (816) 233-5753
Breeder: W.&A. Lee, M. Blethen, M. Hoffman