Aus.Ch. Hunzeal Imperial Izaak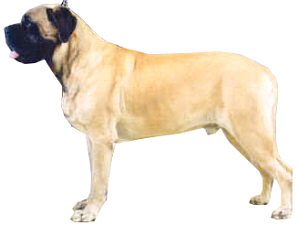 AKC#: N1344940     BORN: 1/8/1993     PROVEN: yes
Description:
  COLOR     : fawn			WHITE MARKINGS: none
  MASK      : standard, black ears	COAT          : medium
  HEIGHT    : 32			WEIGHT        : 205 (93 kg)
  BITE      : slightly undershot	EYE COLOR     : dark
  BONE SIZE : large			TAIL          : long
  ANGULATION: moderate			NAILS         : all black
Health Exams:
  HIPS      : AVA 4/106			ELBOW  : AVA 0,1
  EYES      : examined clear		PATELLA:
  THYROID   :				vWD    :
Temperament: not tested
  ATTITUDE TOWARD OTHER DOGS    : friendly
  ATTITUDE TOWARD STRANGERS     : tentative / friendly
  ATTITUDE TOWARD NEW SITUATIONS: aloof / curious

Pedigree:
					-Grangemoor Bwana (UK imp)
			-Aus.Ch. Hunzeal Drayton
			   AVA 13/106	-Aus.Ch. Grangemoor Angel
  SIRE: Hunzeal Gillard
	   AVA 8/106			-Grangemoor Bwana (UK imp)
			-Aus.Ch. Hunzeal Countess Crystal
			   AVA 7/106	-Aus.Ch. Grangemoor Angel

					-Nyumbasimba Bili
			-Aus.Ch. Magraton Baron
					-Miolchu Lady Carrie
  DAM:  Nasadlg Belle
					-Damaria Powerful Magic Of Gildasan (UK imp)
			-Gildasan Pennyblack (UK imp)
					-Porcha Of Worstead At Gildasan

Comments: 1/00
Izaak has a lovely placid temperament, a good sized dog with a great length of body as well as beautiful angulation, and a magnificent forechest. He dominated the show scene in New South Wales as well as Queensland winning numerous Royal shows.
In 1994 he was Best in Show at the MCOV's Open Show, as well as ResCC and Junior in Show at the MCOV Inaugural Champ Show at the age of 14 months.
Izaak was also awarded Best in Group, Best Champion in Show, Best Movement, Best Sire and Progeny and Best Interstate exhibit during his show career spanning some 5 years.
Izaak sired numerous champion progeny, including Runner Up Best Opposite Sex Mastiff of the Year 1998 as well as In Group and In Show winners.
In addition to this, his progeny also found their way in VISPAT (Visiting Pets as Therapy) and Obedience circles with great success.
His picture appears in the "Who is Who of Australian Dog World" 1995, "The National Dog", "Oz Dog", "Dog Showbiz", and various other publications.
Frozen semen is available.

Owner:
  NAME	     : Amasha M. Caffyn B.A.
  E-MAIL     : hunzeal@bigpond.com
  KENNEL NAME: Hunzeal
  ADDRESS    : PO Box 339,  Wellington, NSW2820 Australia
  PHONE	     : 02-68871644
Breeder: owner