Ch. Celestial James Tiberius, CGC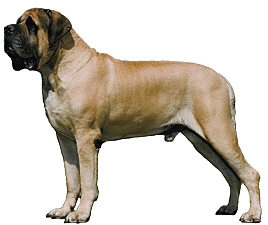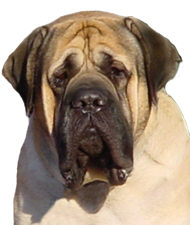 AKC#: WP950633/01     BORN: 12/7/1999     PROVEN: yes
Description:
  COLOR     : fawn			WHITE MARKINGS: none
  MASK      : standard, black ears	COAT          : short
  HEIGHT    : 32"			WEIGHT        : 185
  BITE      : slightly undershot	EYE COLOR     : dark
  BONE SIZE : large			TAIL          : standard
  ANGULATION: moderate			NAILS         : all black
Health Exams:
  HIPS    : OFA Prelim excellent @ 16 months	ELBOW : OFA Prelim Clear
	    OFA MF-5200E35M-PI				OFEL MF-EL2286M35-PI
  EYES    : CERF MF-1975/2001-16&40		HEART : OFA MF-CA417/16M/P-PI
  THYROID : normal				vWD   : normal vWF: 104%
  PATELLAS: OFA MF-PA533/16M/P-PI		CYSTINURIA   : UPenn Negative 5/1/2001
  PRADNA  : Homozygous Normal (clear)
Temperament: CGC
  ATTITUDE TOWARD OTHER DOGS    : friendly
  ATTITUDE TOWARD STRANGERS     : friendly
  ATTITUDE TOWARD NEW SITUATIONS: curious

Pedigree:
							-Ch. Greiner Hall Chadwick
			*Am.Can.Ch. Greiner Hall Jedadiah, CGC,TDI
			  OFA MF1604G41M,OFEL,CERF	-Greiner Hall Isnor
  SIRE: Ch. Manatawnys Black Tie Affair
          OFA MF2822G41M,OFEL				-Oak Lair Bodacious Beaufort
       			-Royal Valley's Lady Brittany
			  OFA MF1560F27F		-Messmer's Maggie May

							*Ch. Lionsire Grizz
			*Ch. Lionsire Sir Nigel Beware, CD,CGC
			  OFA MF1660G40M-T,OFEL,CERF	-Ch. Lionsire Maude Of Deer Run
  DAM:  Lionsire Celestial Cherub, CGC
          OFA MF3271G24F,OFEL,CERF			*Ch. Lionsire Grizz
        		-Lionsire Gotcha Wrinkles Too
							-Lionsire Lakeside's Gotcha

Comments: 10/01 9/07
Kirk is AKC DNA registered # V98015 and permanently ID'd by microchip. He is very athletic and energetic. Kirk comes from a slow maturing blood line and is very willing to please and work. Kirk finished his Championship at age 20 months.
Affectionally nick named "nice tight package" by a respected BIS judge. Kirk's movement is flawless and very sound. He finished out 2005 as the #8 mastiff and at the age of 6, the oldest in the top 10. He is now enjoying showing as a Veteran.
Additional photos and movement video of Kirk can be seen on his web pages. http://www.celestialmastiffs.com/kirk.html or http://www.dunkirkmastiffs.com/id1.html.
DDC Coat length DNA test: id# 15801 N/N clear

Published Full Siblings:
  Celestial Black And Tan Seraph OFAg31,OFEL
  Celestial Devil's Medicine CERF
  Celestial Teddy Bear OFAe30,OFEL
  Celestial Tobias

Published Offspring:
  Celestial Bella Of Mt.Cydonia
  Celestial Madonna Mia CERF
  Celestial Miss Scarlet OFAg44,OFEL

Owner:
  NAME   : Michael Durante & Joseph Borracci
  E-MAIL : mastiff@ptd.net or pat@dunkirkmastiffs.com
  KENNEL : Celestial Mastiffs
  ADDRESS: PO Box 436,  Lehighton, PA 18235-0436
  PHONE  : (484) 262-4032
Breeder: E. & M. Durante