Majestiks King Kamehameha Of Kona, TDI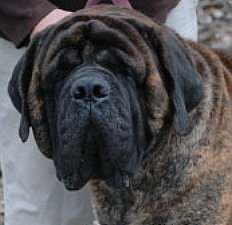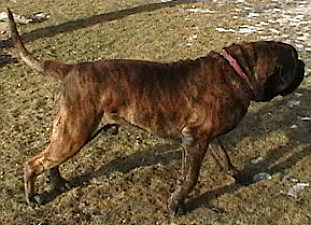 AKC#: WS15813301     BORN: 12/5/2005     PROVEN: no
Description:
  COLOR     : apricot brindle		WHITE MARKINGS: chest
  MASK      : standard, black ears	COAT          : short
  HEIGHT    : 35			WEIGHT        : 220 lbs
  BITE      : scissors			EYE COLOR     : dark
  BONE SIZE : huge			TAIL          : standard
  ANGULATION: moderate			NAILS         : all black
Health Exams:
  HIPS      : OFA excellent MF-7326E28M-VPI	ELBOW	: OFEL MF-EL3985M28-VPI
  EYES      : 					HEART	: OFA MF-CA1675/23M/C-PI-ECHO
  THYROID   :					PATELLA	: 
  CYSTINURIA: 					VWD	: 
  PRA DNA   : clear by parentage 
Temperament: 
  ATTITUDE TOWARD OTHER DOGS    : friendly
  ATTITUDE TOWARD STRANGERS     : friendly
  ATTITUDE TOWARD NEW SITUATIONS: curious

Pedigree:
								  -Majestiks Warlord Warrior
				*Ch. Nassau Tudor Max
				   OFA MF3274G29M,OFEL		  -Nassau Sounds Bailey, CGC
  SIRE: Ch. Madigan's Doc Holiday
	 OFA MF4529G27M,OFEL,CERF,PRADNA			  *Ch. Lionsire Sir Nigel Beware ,CD,CGC
				-Lionsire Misty Blue
				  OFA MF3279G24F,OFEL		  -Lionsire Gotcha Wrinkles Too

								  -Ch. Quail Hill's Majestik Turbulnc
				-Ch. Majestiks King Louie
				  OFA MF5141E27M,OFEL,CERF,PRADNA -Ch. Majestiks Legacy Of Lexxus
   DAM: Ch. Majestik Redgate She'Snow Angel
	 OFA MF6067E24F,OFEL,PRADNAP				  -Brite Star's Redgate Crusader
				-Ch. Redgate Hudsons Anastasia
				  OFA MF4475E30F,OFEL,PRADNA	  -Majestiks Rahzell Of Redgate

Comments: 8/08
Seldom does a breeding produce a dog better than the parents, but I believe Doc and Maddie did it with Kona. Kona has a huge head with tons of expression and wrinkle. Kona is a very big boy, with huge bone, but he moves with incredible grace.
Kona is a 5th generation OFA Hip Excellent rated dog according to the Devine Farm Pedigree Program, and is an exceptionally sweet dog.
Kona demands lovin' from everyone who walks through our door - whether he's ever met you or not, and is guaranteed to sit on your foot and put his head under your arm if you are not paying enough attention to him. Kona is also great with other dogs, and lived amicably with another in tact male prior to coming to live with us - despite not being properly introduced.
Minimum requirements are prelim hips and elbows, and PRA DNA cleared (cleared via parentage is fine).

Owner:
  NAME       : Matthew and Diane Raudenbush
  E-MAIL     : tammr@epix.net
  KENNEL NAME: Gunslinger Mastiffs
  ADDRESS    : 125 Frogtown Rd,  Ottsville, PA 18942
  PHONE      : (610) 847-8250
Breeder: Susan M Visochhi, Dana Moeller, Nancy Kennedy