Ch. Master's Lard-O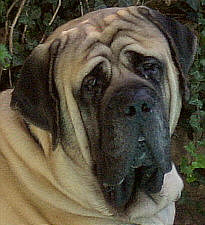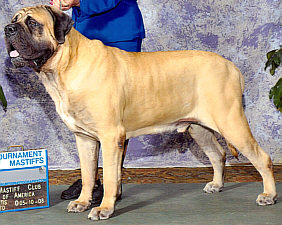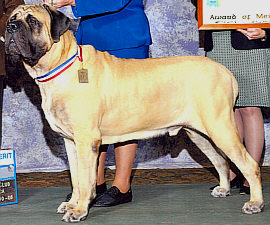 AKC#: WS060115/02     BORN: 9/16/2003     PROVEN: yes
Description:
  COLOR     : fawn			WHITE MARKINGS: chest
  MASK      : standard, black ears	COAT          : short
  HEIGHT    : 33 inches			WEIGHT        : 230 lbs at 4 years
  BITE      : scissors			EYE COLOR     : dark
  BONE SIZE : huge			TAIL          : standard
  ANGULATION: moderate			NAILS         : all black
Health Exams: 
  HIPS      : OFA MF-6415G24M-PI	ELBOW	: OFEL MF-EL3191M24-PI
  EYES      : CERF MF-3036/2005-25	HEART	: OFA MF-CA1075/24M/PI
  THYROID   : OFA MF-TH641/26M-PI	PATELLA	: OFA MF-PA1177/24M/PI
  CYSTINURIA: UPenn normal 8/4/06	VWD	: normal 94%
  PRA DNA   : Homozygous Normal 
Temperament: not tested
  ATTITUDE TOWARD OTHER DOGS    : tentative
  ATTITUDE TOWARD STRANGERS     : tentative
  ATTITUDE TOWARD NEW SITUATIONS: curious
Pedigree:
							-Ch. Night Stalker Sillars Clyde
			-Ch. Nyal's Risky Business
			  OFA MF2787G27M,OFEL,CERF	-Ch. Iron Hills Earned Interest
  SIRE: Ch. Impressive Heritage
	 OFA MF5462E49M,OFEL				-Ch. Semper Fi Groppetti Gargoyle
			-Ch. Groppetti ImpressiveBootSkootn
			  OFA MF3891E31F,OFEL		-Groppetti Tug Boat Annie

							-Ch. Semper Fi Groppetti Gargoyle
			-Ch. Dandylion Master Link
			  OFA MF3438F24M		-Ch. Dandylion Maggie Magee
   DAM: Ch. Master's Miss Hap
	 OFA MF4642G29F,OFEL				-Run'n Bear's Divine Thunder
			-Ch. Running Bear's Master Chain
			  OFA MF3405G24F		-Creekview's Nana

Comments: 08/06
By 23 months of age Lard-O was the #3 Mastiff and #4 All Breed Mastiff in the Country.
In 2005 Lard-O received invitations and competed in the Westminster Dog show, Eukanuba National Championship, and recently received an Int'l Invitation to compete in the Crufts Dog Show for 2007-08. Lard-O has appeared in many National Magazines, Dog News and The Chronicle to name a few. Lard-O was on the cover of the Mastiff Club of America Journal, 2006 #1.
At the 2006 Mastiff Club of America Speciality Show, Lard-O recieved the second Award of Merit, and was in the Top 10 in the Tournament of Mastiff Champions.
In 2006 Lard-O has remained in the Top Twenty Mastiff in the country with limited showing.
Lard-O now is two and a half years old and is a beautiful light fawn color. He has a "rectangular" body proportion as required in the Mastiff Standard. He has a massive, correct body, with a powerful muscle structure and deep chest. Lard-O has dark brown eyes, scissor bit, large tight feet, good angulation and a straight, level and firm top line and a very powerful neck, he has fluid, powerful, movement.
Lard-O's tempermant is one of "Dignity, rather than gaiety." Mastiff Standard. You will not see Lard-O jumping up and down, off his feet in the show ring, he will come at you straight, with "grandeur and courage." Mastiff Standard.

Owner:
  NAME       : Pam & Kenneth Dillon
  E-MAIL     : psdillon@kc.rr.com
  KENNEL NAME: Dillon Mastiffs
  ADDRESS    : 8809 Aberdeen,  Leawood, KS 66206
  PHONE      : (913) 648-6146
Breeder: Shirley Carpenter