Intl.Am.Can.Ch. Stellar Enter Sandman, RN,CGC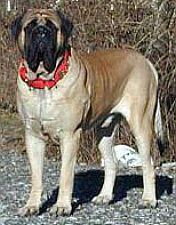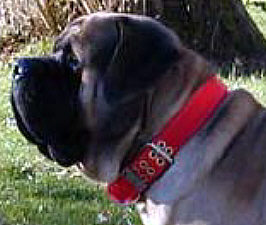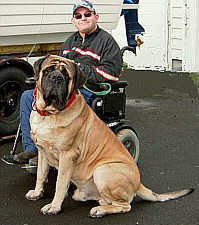 AKC#: WR003164/10     BORN: 11/24/2000    PROVEN: yes
Description:
  COLOR     : fawn			WHITE MARKINGS: none
  MASK      : standard, black ears	COAT          : short
  HEIGHT    : 33 1/2			WEIGHT        : 210
  BITE      : scissors			EYE COLOR     : dark
  BONE SIZE : huge			TAIL          : standard
  ANGULATION: moderate			NAILS         : all black
Health Exams: 
  HIPS      : OFA MF-5369G28M-PI	ELBOW         : OFEL MF-EL2387M28-PI
  EYES      : CERF MF-2174		PATELLA       : OFA MF-PA795/28/M/P-PI
  THYROID   : OFA MF-TH398/28M-PI	vWD           : normal  vWF:Ag: 81%
  CARDIAC   : OFA MF-CA634/26M/C-PI	Cystinuria    : negative 6/28/2003
  PRA DNA   : Clear by parentage
Temperament: CGC
  ATTITUDE TOWARD OTHER DOGS    : friendly
  ATTITUDE TOWARD STRANGERS     : friendly
  ATTITUDE TOWARD NEW SITUATIONS: at ease
Pedigree:
						-Ch. Arciniega's Moonstone Argus
			-Am.Can.Ch. Moonstone's Coaltraine
			  OFA MF1357G28M	-Moonstone's Evangeline
  SIRE: Int.Am.Can.Ch.Windy Mts Mighty Tonka, TT,CGC
         OFA excellent,OFEL			-Ch. Saratoga Floyd
	 CERF,PRADNA	-Intl.Am.Can.Ch. Moonstone's Amazing Grace
			  OFA MF1539G24F,CERF	-Ch. Moonstone's Heather U Promised

						-Ch. Iron Hills Paint Your Wagon
			-Ch. Iron Hills In To The Night
			  OFA good,OFEL,CERF	-Kara Stonehage
   DAM: Intl.Am.Can.Ch. Ironclad Stellar Night 'N Day
         OFA good,OFEL 				-Ch. Iron Hills Portfolio
	 CERF,PRADNA	-Ch. Iron Hills Ironclad Ivy League
			  OFA good,OFEL		-Ch. Iron Hills Earned Interest

Comments: 3/2003
"Lars" is a truly wonderful Mastiff, who's beauty, soundness, and fantastic temperament are a credit to the Mastiff breed. Lars was the 2002 MCOA National Specialty Grand Futurity Winner, and finished all of his Championships in short order.
Lars is primarily the best friend and companion to his wheelchair bound, co-owner, Jeremy Moore, who has done an excellent job of training Lars to accompany him everywhere that he goes. One of Jeremy and Lars' favorite haunts is Petsmart, where Lars has introduced many a youngster and puppy to becoming friends with a huge dog during their socialization lessons.
Lars carries the blood of some of the most famous and healthy Mastiffs in the breed. Lars also has an awesome head. He is being made available strictly to excellent quality, tested bitches with good temperaments and owned by responsible owners. Frozen semen is available.
Feel free to contact his breeder/co-owner, Louise Roland of Stellar Mastiffs.
See litter born Feb.14th, 2007 at http://www.rainydaysmastiffs.com/.

Published Full Siblings:
  Stellar Bailey My Love OFAg31,OFEL,CERF
  Intl.Am.Can.Ch. Stellar's Clair de Lune OFAg,OFEL
  Intl.Am.Can.Ch. Stellar's Evening In Paris, CGC OFAg34,OFEL,CERF
  Intl.Am.Can.Ch. Stellar's Glory Hallelujah OFAe,OFEL,CERF
  Stellar's Moonlight Dancer CERF
  Stellar's Moonlight Sonata CERF
  Stellar's Mufasa Of Pride Rock OFAg25,OFEL,CERF

Owner:
  NAME       : Jeremy Moore and Louise Roland
  E-MAIL     : Stellarmastiffs@cs.com
  KENNEL NAME: Stellar
  ADDRESS    : P.O. Box 348,  Custer, WA 98240
  PHONE      : (360) 366-4256
Breeder: Louise Roland