Ch. Lazy D's Mtnside Grand River, CGC,TDI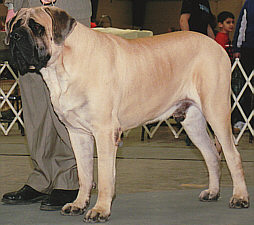 AKC#: WS20495904     BORN: 12/16/2006     PROVEN: no
Description:
  COLOR     : fawn			WHITE MARKINGS: none
  MASK      : standard, black ears	COAT          : short
  HEIGHT    : 33			WEIGHT        : 220 lbs
  BITE      : scissors			EYE COLOR     : dark
  BONE SIZE : huge			TAIL          : standard
  ANGULATION: moderate			NAILS         : all black
Health Exams: 
  HIPS      : OFA MF-7621F29M-VPI   PennHip .36L/.35R 90th Percentile
  ELBOW	    : OFEL MF-EL4233M29-VPI
  EYES      : CERF MF-3519/28		HEART	: OFA MF-CA1621/15M/P-VPI
  THYROID   : 				PATELLA	: OFA MF-PA1610/14M/P-PI
  CYSTINURIA: UPENN Normal 7/23/09	VWD	:
  PRA DNA   : PRADNA clear 08-3733	CMR     : OFA MF-CMR28/16M-VPI
Temperament: 
  ATTITUDE TOWARD OTHER DOGS    : friendly
  ATTITUDE TOWARD STRANGERS     : friendly
  ATTITUDE TOWARD NEW SITUATIONS: at ease

Pedigree:
							-Ch. Nassau Tudor Max
			-Ch. Madigan's Doc Holiday
			| OFA MF4529G27M,OFEL,CERF	-Lionsire Misty Blue
 SIRE: Ch. Lazyd FeelThePowerOf Maximus
	OFA MF6598F34M,OFEL,CERF			-Ch. Lazy D's Fortunate Son Of Marv
			-Ch. Lazy D's IroncladChantillyLace
			  OFA MF5447G25F,OFEL,CERF	-Ch. Ironclad Ironhill Ivana

							-Ch. Iron Hills InTo The Night
			-Ch. Crossroads Pride Stroke O Luck
			| OFA MF4815F31M,OFEL,CERF	-Ch. Molly First Lady Of Buckhall
  DAM: Ch. Lazy D Mtnside The Beat Goes On
	OFA MF6895F28F,OFEL				-Ch. Lazy D's Boogiewoogie Of Mobama
			-Ch. Mtnside's Genesis Of Lazy D
			  OFA MF6031G27F,OFEL		-Ironclad Caledonia GuiltyAsSin

Comments: 6/09
Hudson has an outstanding temperament and enjoys life in and out of the ring. He is a well constructed dog with huge bone, powerful gait and noble presence. Hudson exhibits correct Mastiff type. He has achieved the follow titles to date: AKC Conformation Champion, Canine Good Citizen, Therapy Dog International Active Outstanding Volunteer (50 plus documented visits), and AKC Therapy Dog.
Hudson will be shown as a special in 2011-2012 - working toward a Grand Championship title. He will also be in training in hopes of achieving an obedience title - qualifying him for a Mastiff Club Of America Working Dog Title.
Hudson is available for stud service to health tested bitches of merit.

Owner:
  NAME       : Chris Bestgen
  E-MAIL     : chrisbestgen@gmail.com
  KENNEL NAME: Anfield-Markei
  WEBSITE    : More info.
  ADDRESS    : 837 S. Vassar,  Wichita, KS 67218
  PHONE      : (316) 617-3971
Breeder: Nancy Walker & Denise Ledford