Farnaby Solocroft Lexicon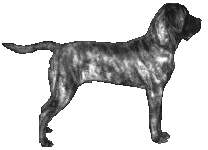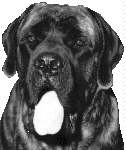 AKC#: pending     BORN: 9/9/1993     PROVEN: no
Description:
  COLOR     : apricot brindle		WHITE MARKINGS: none
  MASK      : standard, black ears	COAT          : short
  HEIGHT    : 32 @ 10 months		WEIGHT        : 155 @ 10 months
  BITE      : slightly undershot	EYE COLOR     : dark
  BONE SIZE : large			TAIL          : standard
  ANGULATION: moderate			NAILS         : all black
Health Exams:
  HIPS     : prelim OFA good		ELBOW  : OFEL prelim
  EYES     : CERF MF479/94-11		PATELLA: OFA
  THYROID  : normal			vWD    : normal  vWF:Ag: 172%
Temperament: not tested
  ATTITUDE TOWARD OTHER DOGS	: tentative / friendly
  ATTITUDE TOWARD STRANGERS	: tentative / friendly
  ATTITUDE TOWARD NEW SITUATIONS: curious

Pedigree:
					-Eng.Ch. Trevabyn Black Ice
			-Farnaby Touch Of Class At Trevabyn
					-Farnaby Special Features
  SIRE: Farnaby Full Fathom Five
					-Eng.Ch. Damaria Count Magnum
			-Eng.Ch. Farnaby Fraze And Fable
					-Farnaby Special Features

					-Lesdon Lord Fortescue Of Farnaby
			-Farnaby Fair'n Square
					-Wyaston Mary Rose
  DAM:  Farnaby Magic Moment
					-Eng.Ch. Damaria COunt Magnum
			-Farnaby Fortune Personified
					-Farnaby Special Features

Comments: 12/94 NOT AVAILABLE AS A STUD DOG
At 15 months, Lexicon is still a classic Farnaby: balanced, even-growing, and very leggy. He is a rich, dark red apricot brindle with very short hair. He has black mask and ears, black nails, and not a single white hair on him. His muzzle is nice and square, he is very slightly undershot, and his eyes are medium-dark and deepset, per standard, with good expression. He has a perfect Farnaby head and should have a lovely front. His feet are nice and tight, well formed.
Please see the description of Farnaby Fearful Symmetry (Rufus) in this issue of the Register, for background on the Farnaby line, so it need not be repeated here. Rufus was the first 5- star (fully tested normal) English import male in the US. We hope Lex will be the second. Farnaby mastiffs are famous in England for consistent type, exceptional near-perfect hip scores, late maturity, and long lives. They have also done their share of winning in the ring. Three of the top four males who won at Crufts in 1994 were all close relatives of Lex and Rufus.
I own Lex's uncle, half sister/aunt, and litter sister, and test all my dogs. All their puppies will also be tested, so we will have increasing amounts of genetic information to guide us to the best possible decisions in breeding from these valuable and beautiful dogs. We have data on all Rufus' pups available.
Although still a baby, Lex looks most like his father, and his half brother Cracker (Turner's litter brother, for those who know her.) Despite being tall, both these dogs are wide in head and body, yet active and agile. Lex is, at 15 months, already a bit taller than his uncle Rufus (who is about 32 inches). I keep telling him "grow out, not up!" but he just grins at me.
In between puppy uglies, his correct moderate angulation is apparent, and when he moves, his topline is like a tabletop. Excellent tailset. His movement is fluid from side, rear, and front. He never seems to put a foot wrong.
Lex did very well in Puppy Kindergarten, and is alert and happy, neither shy nor hyper. Mellow but not dull! He likes to try to outsmart me, so he is pretty clever as well as having a funny sense of humor. Because I have been too busy to socialize him as he deserves, he tends to be wary of new situations, but settles down nicely. For temperament, Lex is my favorite male. Since he is mellower than his uncle Rufus, and Ruf is excellent in his full-time job doing therapy with disturbed children, I can't wait to see how Lexicon will do as a therapy dog!
He had a minor eye injury as a youngster and the vet opthalmologist checked both eyes thoroughly at the time, and said they looked perfect. Since then he received a perfect CERF score like those of his litter sister, half sister/aunt Turner and uncle Rufus, as well as Rufus's pups.
Lex is available to fully tested females of good type and temperament, free of Brucellosis. Same breeding and testing requirements as described in Rufus's section. Live breedings, chilled, or frozen semen available. His vet says his semen looks good. Call me for pictures and details!

Published Full Siblings:
  Farnaby Solocroft Taylored CERF

Owner:
  NAME       : Laurie Brooke Adams
  KENNEL NAME: Tigris
  ADDRESS    : 2013 WB Clark Rd,  Creedmoor, NC 27522
  PHONE      : (919) 528-2778
Breeder: N. Mitchell