Ch. La' Paws Drake of Diamdhead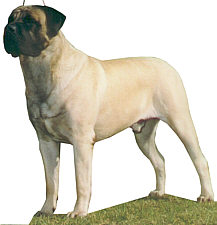 AKC#: WP833781/01     BORN: 12/20/1997    PROVEN: yes
Description:
  COLOR     : fawn			WHITE MARKINGS: none
  MASK      : standard			COAT          : 
  HEIGHT    : 31			WEIGHT        : 185
  BITE      : scissors			EYE COLOR     : dark
  BONE SIZE : large			TAIL          : standard
  ANGULATION: moderate			NAILS         : all black
Health Exams:
  HIPS      : OFA MF-4096E30M-T,prelim excellent ELBOW: OFEL MF-EL1547-T
  EYES      : CERF MF-1540/98-10	PATELLA       : OFA MF-PA420/30/M/P-T
  THYROID   : 				vWD           : 
  PRA DNA   : Homozygous Normal (clear)	CYSTINURIA    : normal
Temperament: not tested
  ATTITUDE TOWARD OTHER DOGS    : friendly
  ATTITUDE TOWARD STRANGERS     : friendly
  ATTITUDE TOWARD NEW SITUATIONS: at ease

Pedigree:
						-Ch. Deer Run Semper Fi Thor, CD
			-Ch. Semper Fi Groppetti Gargoyle
			   OFA MF2046GM		-Deer Run Semper Fi Kerra, CD
  SIRE: Intl.Am.Ch. Groppetti Thorg Of Windzor
	 OFA MF2937G24M				-Deer Run No More Mr Nice Guy
	 OFEL,CERF	-Groppetti Tug Boat Annie
			   OFA MF2040E35F	-Groppetti Carmel

						-Ch. Falmorehall Fortescue
			-Greco's Falmore Bonner
						-Ch. Greco's Sacha Sarele
   DAM: Lady Rowena Of Flint Creek
	 OFA MF2940F34F				-Ch. Greco's Hollesley Rogue
	 OFEL,CERF	-Rachel Renee Hogan
						-Greco's Saint Renne Spot

Comments: 8/00 NO LONGER AVAILABLE FOR STUD
Drake is a very loving happy Mastiff. First show at six months, Reserve Winners. He finished by 20 months. Three of his litter mates are finished. Three of his offspring have been shown in the 6 to 9 month class:
Lamars Blues Clues - back to back winners dog for 3 points from 6-9 class
Lamars Slam Dunk - 3 shows, 2 reserve winners
Lamars Rocket J Squirell Esq - 2 shows, 1 reserve winners
Breeding requirements for bitches: OFA hips and elbows, CERF and brucelosis negative. More testing is advisable.

Published Full Siblings:
  Ch. Diamond Head Captain
  Maid Marian Of Flint Creek
  RJ Of Flint Creek
  Sir Galahad Of Flint Creek, CD OFAf26
  Ch. Truitt's Lola Girl
Published Offspring:
  Ch. Lamars Blues Clues OFAg26,OFEL
  Lamar's Dazzling Diamond OFAg29,OFEL
  Ch. Lamars Die Hard
  Lamars Rockett J Squirrel Esq OFEL
  Ch. Lamar's Tessa Of Highlander OFAg24,OFEL
Owner:
  NAME       : Margo Lauritsen
  E-MAIL     : LAMARS3@aol.com
  KENNEL NAME: Lamars
  ADDRESS    : 2512 Vineyard Ave,  Pleasanton, CA 94566
  PHONE      : (510) 426-2430
Breeder: J. & M. Dryden