Omega's Hellzapoppin'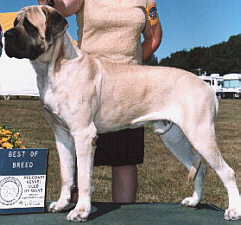 18 months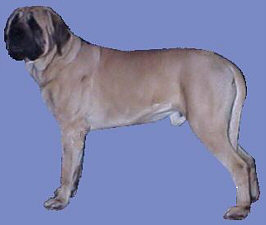 3 years

  AKC#: WP962485/10     BORN: 11/22/1999      PROVEN: no
Description:
  COLOR     : fawn			WHITE MARKINGS: none
  MASK      : standard, black ears	COAT          : short
  HEIGHT    : 31			WEIGHT        : 165
  BITE      : slightly undershot	EYE COLOR     : medium
  BONE SIZE : large			TAIL          : long
  ANGULATION: well angulated		NAILS         : all black
Health Exams:
  HIPS      : OFA MF-5175G34M-PI & prelim good	ELBOW : OFA MF-EL2268M34-PI & prelim clear
  EYES      : CERF MF-2111/2000-11	CYSTINURIA    : Negative
  THYROID   : OFA MF-TH			vWD           : Normal
  HEART     : unknown			PATELLAS      : unknown
  PRA DNA   : Homozygous Normal (clear)
Temperament: 
  ATTITUDE TOWARD OTHER DOGS     : friendly
  ATTITUDE TOWARD STRANGERS      : friendly
  ATTITUDE TOWARD NEW SITUATIONS : 

Pedigree:
								-Ch. Iron Hills Warwagon
				-Ch. Iron Hills Paint Your Wagon
				  OFA MF2092E51M,OFEL,CERF	-Ch. Lionsire Indigo Of Pax River
  SIRE: Ch. Iron Hills InTo The Night
	  OFA MF2277G34M-T,OFEL,CERF				-Neth.Ch. Royal Roy Van Desaal
				-Kara Stonehage
								-Stonehage Eva

								-Ch,CD Deer Run Semper Fi Thor
				Ch. Iron Hills Portfolio
				   OFA MF2111G32M-T		-Ch. Iron Hills Earned Interest
  DAM:  Iron Hills Lollapalooza
	  OFA MF3719E31F,OFEL					-Ch. Sillar's K.O. Tyson
				-Iron Hills One Drink Limit
								-Ch. Iron Hills Spill The Wine

Comments: 12/02 - 9/03 NO LONGER AVAILABLE
Mingo is a very sweet, soft, handsome dog with outstanding movement. He has lovely angulation both front and rear and loads of reach and drive. His head, topline and show ring presence make for a promising career ahead of him in the ring. This stands to reason with his pedigree.
Mingo is a multiple Best Of Breed winner although he's been shown on a very limited basis only. He has graduated beginner and intermediate agility classes and shows a great aptitude for it. As soon as his owner gets over her trepidation at entering agility competition he will get a chance to strut his stuff in that ring too.
Ten of the thirteen littermates are pointed or finished! Mingo is a gentle and sensitive guy with a lot going for him.

Published Full Siblings:
  Iron Hills Evening ShadeAtDion OFAg43,OFEL
  Iron Hills Hammerin Hank OFAf31,OFEL
  Ch. Omega's King Of Cool
 Ch. Omega Rompin Stompin Bogart, CGC OFAg27,OFEL

Owner:
  NAME        : Heidi MacKenzie & Melissa Prete & Claudia Prete
  KENNEL NAME : Castlemist Mastiffs
  ADDRESS     : PO Box 497,  Hubbardston, MA 01452
  PHONE       : (978) 632-6898
  E-MAIL      : mastiffmom@mastiffmom.com
Breeder: M. Prete & P. Phoebus