Aus.Ch. Hunzeal Hi-N-Mity Hagan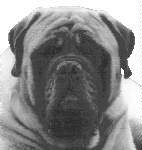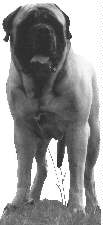 Australian #: Q1259341    BORN: 1/8/1992    PROVEN: yes
Description:
  COLOR     : fawn			WHITE MARKINGS: small on chest
  MASK      : standard, black mask	COAT          : medium
  HEIGHT    : 32			WEIGHT        : 222 (101 kg)
  BITE      : slightly undershot	EYE COLOR     : dark
  BONE SIZE : large			TAIL          : standard
  ANGULATION: moderate			NAILS         : more white than black
Health Exams:
  HIPS      : AVA 19/106		ELBOW  : x-rayed
  EYES      : PPM			PATELLA:
  THYROID   :				vWD    :
Temperament: not tested
  ATTITUDE TOWARD OTHER DOGS    : friendly
  ATTITUDE TOWARD STRANGERS     : friendly
  ATTITUDE TOWARD NEW SITUATIONS: curious / at ease

Pedigree:
					-Kiconlear Of Tmaramara
			-Gildasan Silver Crown
					-Gildasan Silver Shadow
  SIRE: Damaria Powerful Magic Of Gildasan (UK imp)
          BVA 13/106			-Eng.Ch. Celerity Powerful Sort
			-Eng.Ch. Zanfi Princess Tanya Of Damaria
					-Grangemoor Gilda

					-Grangemoor Cadivor
			-Grangemoor Bwana (UK imp)
					-Deer Run Grangemoor Gena
  DAM:  Aus.Ch. Hunzeal Fantasia
          AVA 7/106			-Grangemoor Rabson
			-Aus.Ch. Grangemoor Angel (UK imp)
			   AVA 18/106	-Celerity Isobel Of Grangemoor

Comments: 1/96
Hagan has a wonderful, calm temperament, a magnificent head, a true Mastiff. Unbeaten at shows from the age of 8 months to 2 years when, sadly, as a result of an accident, he ruptured his cruciate. Mrs. Eve Olsen- Fisher's comments when awarding 9 month old Hagan CC Dog: "this dog has the flair and grandeur for competition anywhere." All shown siblings in his litter are champions. As recently as October '99 at Christchurch, New Zealand, Mrs. Betty Baxter chose NZ Ch. Hunzeal Hi. N. Mity Hogan (just off 8 yrs) as "Best Mastiff" on the day in a Match parade.
His picture is published on the front cover of National Dog, 1995 which featured mastiffs as well as "Who is Who of the Australian Dog World" 1995, "The National Dog", "Oz dog", "Dog Showbiz" and various other publications.
Hagan's dam, Ch. Hunzeal Fantasia still, in the year 2000 holds the record as Australia's most awarded Mastiff in that, shown in 4 States at consecutive Royal shows she attained 11/11 BOBs. In her entire show career spanning some 5 years she was awarded Best of Breed at virtually all shows entered.
Hagan sired numerous champions, Royal as well as In Group and In Show winners too numerous to name. Two of his outstanding progeny can be viewed in the register. Ch. Hunzeal Norbet and Ch. Breton Belgae Tallisman (who with his champion litter brothers and sisters) dominated the Victorian show scene for the past 4 years. Tallisman holds the unsurpassed record of Mastiff of the Year awarded by the MCOV for the 4th consecutive year.

Owner:
  NAME	     : Amasha M. Caffyn B.A.
  E-MAIL     : hunzeal@bigpond.com
  KENNEL NAME: Hunzeal
  ADDRESS    : PO Box 339,  Wellington, NSW2820 Australia
  PHONE	     : 02-68871644
Breeder: owner