Ch. Majestiks Mexican Honeymoon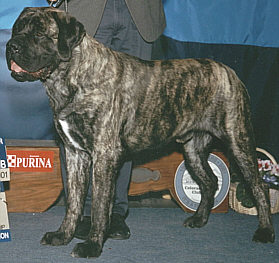 AKC#: WP903881/03     BORN: 3/2/1999     PROVEN: yes
Description:
  COLOR     : brindle			WHITE MARKINGS: chest
  MASK      : standard, black ears	COAT          : medium
  HEIGHT    : 32			WEIGHT        : 195
  BITE      : slightly undershot	EYE COLOR     : dark
  BONE SIZE : large			TAIL          : standard
  ANGULATION: moderate			NAILS         : all black
Health Exams:
  HIPS     : OFA good MF-4405G24M	ELBOW  : OFA MF-EL24
  EYES     : CERF 			HEART  : 
  THYROID  : normal			vWD    : normal 83%
  PRA DNA  : clear (homozygous normal)
Temperament: not tested
  ATTITUDE TOWARD OTHER DOGS    : aloof / friendly
  ATTITUDE TOWARD STRANGERS     : friendly
  ATTITUDE TOWARD NEW SITUATIONS: curious / at ease

Pedigree:
							-Ch. Falmorehall Fortescue
			-Ch. Greco's Hollesley Rogue
							-Greco's Hollesley Trist Jean
  SIRE: Ch. Greco's Majestik's Murphy
	 OFA MF1822G24M,CERF				-Brezy Points Sampson
	 		-Greco's Saint Bernadette Holl
							-Brezy Points Deliah

							-Ch. Rocky Hollow Seacliff
			-Quail Hill's Smokn Lads Mo
							-Ch. Smok'n Lad Stormy Bee Jay
  DAM:  Quail Hill's Majestiks Klodia
	 OFA MF1804E24F,CERF				-Ch. Quail Hill's Humongo Chongo
			-Quail Hill's Molly Come Lately
							-Rocky Hollow Lady Ashley

Comments: 8/02
Cabo at 3 years old, is a gorgeous example of the Mastiff Standard and Healthy. He is fully tested with great results. He has a stellar pedigree as well.
Cabo's best features... perfect topline, large bone & size, very black mask, large head, excellent angulation. The best though is his AWESOME personality - he is a big, loveable baby! Cabo is an easy going, non-agressive, lap-dog... great with kids, grown-ups and other dogs. He just wants to PLAY!!
Cabo is proven, his last pairing brought 10 healthy, adorable pups. We were able to get multiple natural ties (and threw in an AI for good measure). Cabo is available for stud to approved bitches. Natural breeding, or AI with fresh or frozen semen is available.

Published Full Siblings:
  Majestiks Farpoint Fancy CERF
  Majestiks Hudsons Gidgigirl OFAe25,OFEL
  Majestiks Jaguar's Attitude OFAg27,OFEL
  Majestiks Lady Avalanche OFAg26
  Ch. Majestiks Legacy Of Lexxus OFAe27,OFEL
  Majestiks Ll Legend's Of Ajax CERF
  Majestiks Maya Of Quaill Hill OFAf40,CERF
  Ch. Majestiks Murphys Mursady Hay
  Majestiks Reba Jo
  Majestic's Romeo OFAf25
  Ch. Majestiks Sir Hoss Shitzalot
  Ch. Majestiks Sir Kodiac OFAe34,OFEL
  Majestiks Sir William Riley

Owner:
  NAME       : Fortunato and Teresa Martinez
  E-MAIL     : Info@MedievalMountainMastiffs.com
  KENNEL NAME: Medieval Mountain Mastiffs
  ADDRESS    : Monument, CO
  PHONE      : (719) 481-0962
Breeder: S. Visocchi & J. Groezinger