Ch. Cherokee Rising Moon, CGC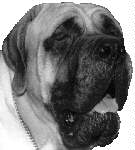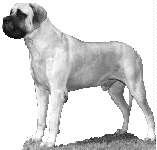 AKC#: WP403548/03    BORN: 1/31/1992    PROVEN: yes
Description:
  COLOR     : fawn			WHITE MARKINGS: none
  MASK      : standard, lighter ears	COAT          : medium
  HEIGHT    : 32 1/2			WEIGHT        : 185
  BITE      : reverse scissors		EYE COLOR     : dark
  BONE SIZE : medium			TAIL          : standard
  ANGULATION: moderate			NAILS         : more white than black
Health Exams:
  HIPS      : OFA MF-1695G31M		ELBOW: OFEL MF-EL163
  EYES      : unknown
  THYROID   : normal			vWD  :
Temperament: CGC
  ATTITUDE TOWARD OTHER DOGS	: cautious
  ATTITUDE TOWARD STRANGERS	: friendly
  ATTITUDE TOWARD NEW SITUATIONS: curious

Pedigree:
					-Deer Run Randall
			-Sir William Of Deer Run
					-Sugar Layne
  SIRE: Black Creek's Twinkle Toes
					-Ch. Oak Ridge's Janus
			-Ch. Axtell Meyer's Andromeda
					-Ch. Peersleigh Bridgewood Blair

					-Ch. Beauregard Sasquatch Axtell
			-Ch. Manatee Of Axtell's Pride
					-Ch. Peersleigh Bridgewood Blair
  DAM:  Ch. Meyer's Aurora
					-Riverside Farm's Berserker
			-Ch. Meyer's Medusa
					-Ch. Oak Ridge's Margaise

Comments: 10/94 NO LONGER AVAILABLE AS A STUD
Leto is linebred for balance, level topline, good angulation, fluid side movement, some length of leg, bite, dark eyes, showiness, extroverted personality, "clean" look and clean movement. At two and a half, his littermates and he still look alike. On the down side, while masks are dark, they're also broken and ears are lighter. They also grey early ... but live long. His head is correct though a broader topskull would be better. He rarely shows ear but likes to keep them folded or flat back. Frequently Leto's relatives have been late-bloomers as he himself seems to be. Only now (after finishing) is he beginning to muscle-up. Mostly light nails but high round feet. He's very well-knit and doesn't tire easily. Always 'heads up' in the ring.
Line bred on: Oak Ridge, Peach Farm and Ch. Willowledge Caesar III.
Accomplishments: BOB from puppy class (6-9 mos) over three specials, by Mr. J.D. Jones who told me he gave it to him for his good movement, owner-handled. Finished with a handler in 5 weekends about the time he turned two.

Relatives:
  sister: Meyer's Isis  MCOA Journal 1993#1, major pointed
  sister: Ch. Cherokee Heaven's Door  OFA and OFEL
  grand-aunt: Ch. Bunker Hill's Chrissy
  Group placing:  (appear in Joan Hahn's Grandeur and Good Nature)
    dam       : Ch. Meyer's Aurora
    grand-dam : Ch. Axtell Meyer's Andromeda
    grand-aunt: Ch. Altom's Mischievous Molly  MCOA Hall Of Fame

Published Photographs:  MCOA Journal, 1994#3, page 38.
Published Full Siblings:
  Ch. Cherokee Heaven's Door OFAg31,OFEL,CERF

Owner:
  NAME       : Loretta Van Damm
  KENNEL NAME: Moon River
  ADDRESS    : P.O. Box 1613,  Tybee Island, GA 31328
  PHONE      : (912) 786-4759
Breeder: K. Meyer