GCh. Lazy D's Southern Mossy Oak WD,CD,RN,CGC,TDI,TT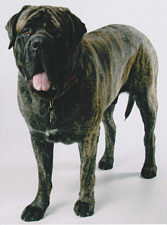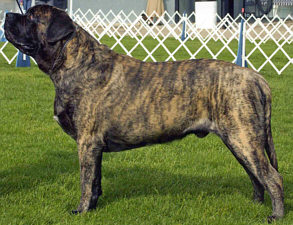 AKC#: WS23949602     BORN: 10/18/2007    PROVEN: yes
Description:
  COLOR     : brindle			WHITE MARKINGS: chest
  MASK      : standard, black ears	COAT          : short
  HEIGHT    : 31			WEIGHT        : 201
  BITE      : level			EYE COLOR     : medium
  BONE SIZE : large			TAIL          : standard
  ANGULATION: moderate			NAILS         : all black
Health Exams: 
  HIPS      : OFA MF-7740F24M-VPI	ELBOW  : OFEL MF-EL4350M24-VPI
  EYES      : CERF MF-3697-24		PATELLA: OFA MF-PA1916/24M/P-VPI
  THYROID   : OFA MF-TH1009/24M-VPI	vWD    : normal 111%
  CYSTINURIA: UPENN clear 9/8/09	HEART  : OFA MF-CA1819/15M/C-VPI
  PRA DNA   : clear OFA MF-PRA1096/22M-VPI
Temperament: CGC,TDI,TT-141-MF,Working Dog
  ATTITUDE TOWARD OTHER DOGS    : friendly
  ATTITUDE TOWARD STRANGERS     : friendly
  ATTITUDE TOWARD NEW SITUATIONS: curious / at ease

Pedigree:
							-Int.Am.Ch. Iron Hills Bar Open All Night
			-Intl.Am.Ch. Caledonia Guilty As Charged, CGC
			| OFA MF5712G42M,OFEL,CERF	-Ch. Caledonia Lion Sleeps Tonite
  SIRE: Ch. Lazy D's Southern Gentleman
	 OFA MF7395G25M,OFEL				-Ch. Lazy D's Fortunate Son Of Marv
			-Ch. Lazy D's IroncladChantillyLace
			  OFA MF5447G25F,OFEL,CERF	-Ch. Ironclad Ironhill Ivana

							-Ch. Nassau Tudor Max
			-Ch. Madigan's Doc Holiday
			| OFA MF4529G27M,CERF		-Lionsire Misty Blue
   DAM: Ch. Westcreek Lazy D Rumor Has It
	 OFA MF6434G25F,OFEL				-Ch. Lazy D's Fortunate Son Of Marv
			-Iron Hills Isabelle of Lazy D
			  OFEL				-Ch. Ironclad Ironhill Ivana

Comments: 3/10
Camo has a phenomenal temperament, and shows it as a therapy dog. He is a true social butterfly that seems to shine in almost any environment.
For 2009 he took #16 in breed, and #14 in all breed with multiple group wins. In addition Camo was the only mastiff in the top 20 for 2009 with a CD, and the only brindle. Camo took Open Brindle Dog and Reserved Winners Dog at the 2009 MCOA nationals, in addition he completed his RN.
Camo is the total package with temperament, type, a wonderful topline, and great movement plus brains to go with it.
2010 MCOA Gold Health Award, and 2011 OFA/MCOA Champion of Health Award
Camo is available to health tested bitches of merit.

Owner:
  NAME       : Misty & David Ermeling
  E-MAIL     : misty.ermeling@gmail.com
  ADDRESS    : 276 Huntsdale Dr,  Wentzville, MO 63385
  PHONE      : (636) 699-2076
Breeder: Nancy Walker