Ch. White Oaks Napoleon, CGC,TDI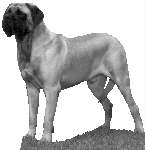 AKC#: WP473107/04     BORN: 1/19/1993     PROVEN: no
Description:
  COLOR     : fawn			WHITE MARKINGS: small spot chest
  MASK      : standard, black ears	COAT          : medium
  HEIGHT    : 33			WEIGHT        : 220
  BITE      : scissors			EYE COLOR     : dark
  BONE SIZE : huge			TAIL          : standard
  ANGULATION: moderate			NAILS         : all black
Health Exams:
  HIPS     : unknown			ELBOW: unknown
  EYES     : unknown
  THYROID  : unknown			vWD  : unknown
Temperament: CGC, TDI
  ATTITUDE TOWARD OTHER DOGS    : friendly
  ATTITUDE TOWARD STRANGERS     : friendly
  ATTITUDE TOWARD NEW SITUATIONS: curious / at ease

Pedigree:
						-Ch. Old School's Panama Red
			-Old School's Faithful Brutus
						-Old School's Princess Ayreal
  SIRE: Ch. Old School's Major Zest
						-Ch. Old School's Majestic Major
			-Storm's Marvela
						-Storm's Scotland Magic

						-Ch. Lionsire Ironhill Warleggen
			-Ch. Iron Hills Phoebus Groppetti
			   OFA MF674E24M, CERF	-Verdune's Tolkien Dreamer
  DAM:  White Oaks Molly
						-Ch. McKaye's Oliver Wingate
			-Thane Halls Elsa
						-Ch. Bells Of Bow Nellie Kelly

Comments: 6/95 as of 7/98 NO LONGER AVAILABLE AS A STUD DOG
Napoleon began his show career at 15 months of age and finished at 17 months with 5 BOBs and 1 BOS.
TEMPERAMENT: outstanding, very stable and sound disposition; he is used in therapy situations with handicapped children of all ages (preschool through teenager) and disabilities including mentally challenged, physically disabled, and emotionally and behaviorally disturbed. He also visits nursing homes. At home Napoleon is a lovable, active, devoted companion and family member.
STRENGTHS: Magnificent head in terms of type, large size, wrinkles, very black mask and ears, scissors bite, and alert expression; heavy bone; broad and deep chest with front legs set far apart; large, round, compact feet with black nails and strong pasterns; pedigree of both Sire and Dam (my fourth generation on dam's side); Napoleon's massive and gentle appearance, as well as his patience, make him a good ambassador for the breed.
WEAKNESS: slightly high rear when stacked in show ring by his inexperienced and older owners, however, this levels out as he moves and when he is shown by someone with more experience, and when he stands at attention on his own looking at something of interest.
REQUIREMENTS FOR BITCHES: stable friendly temperament is number one priority; strong/straight topline; prefer a broad, wide rear; negative brucellosis test within ten days of breeding, pictures of bitch from front, side, and rear; and a pedigree. Napoleon's semen was checked by the vet recommended by ICG for frozen semen collection in Missouri and was high in count with 95% mobility (his mother was in heat at the time!).

Owner:
  NAME       : C. Maia Gallaher 
  KENNEL NAME: White Oaks
  ADDRESS    : 12 Hadley Lane,  Edwardsville, IL 62025
  PHONE      : (618) 656-2306
Breeder: owner