Intl.Am.Ch. Lamars Claudius Optimus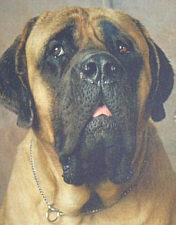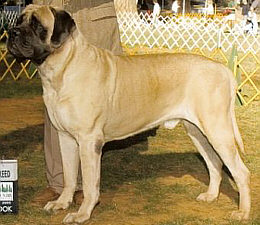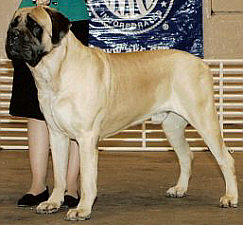 AKC#: WS016034/01     BORN: 7/30/2002    PROVEN: yes
Description:
  COLOR     : fawn			WHITE MARKINGS: none
  MASK      : standard, black ears	COAT          : short
  HEIGHT    : 34			WEIGHT        : 215
  BITE      : slightly undershot	EYE COLOR     : dark
  BONE SIZE : huge			TAIL          : standard
  ANGULATION: moderate			NAILS         : all black
Health Exams:
  HIPS      : OFA MF5970G26M-PI		ELBOW  : OFEL MF-EL2840M26-PI
  EYES      : 				PATELLA: OFA MF-PA1007/26M/P-PI
  THYROID   : 				vWD    :
  PRA DNA   : Clear by Parentage	HEART  : OFA MF-CA886/26M/P-PI
Temperament:
  ATTITUDE TOWARD OTHER DOGS    : friendly
  ATTITUDE TOWARD STRANGERS     : friendly
  ATTITUDE TOWARD NEW SITUATIONS: at ease

Pedigree:
							-Ch. Saratoga Floyd
			-Am.Can.Ch. Moonstone's Nobelest Rasputin
			  OFA MF1880F37M,OFEL,CERF	-Ch. Moonstone's Heather U Promised
  SIRE: Ch.Pleasantview of Moonstone
	 OFA MF4371G27M,OFEL,PRADNA			-Ch. Brite Star's Dual Image, CGC,TDI
			-Brite Star's Daphne
			  OFA MF2889G30F-T		-Ch. Brite Star's Stardust

							-Ch. Yama Bushi Shin Rei
			-Ch. Brite Star's Dual Image, CGC,TDI
			  OFA MF1985G30M,OFEL,CERF	-Ch. Gentry's Brite Star Panda
   DAM: Ch. Lamar's Such A Princess
	 OFA MF4315E44F,OFEL,PRADNA			-Lamar's Brandon Le'Moose
			-Ch. Lamar's Sassy Sandy Savy
			  OFA MF1929G29F,CERF		-Knightsens Muir Oaks Sophie

Comments: 11/04
Opie won his Bred by Class at the Tucson Specialty. He has been shown on a very limited basis.
Opie has never met anyone he didn't like. He has a very laid back, mellow temperament.
Opie's daughter won best Puppy at the REMC Specialty this year. In his first litter, Opie has passed on his good bone and head type.

Published Full Siblings:
  Intl.Am.Ch. LaMar's Twist of Fate OFAe24,OFEL
  Ch. Lamars Kodiak Grizzly Bear OFAg30,OFEL
  Ch. Lamars Lexus Rena De La Noche OFEL

Published Offspring:
  Ch. Highlanders Mystical Warrior

Owner:
  NAME       : Margo Lauritsen
  E-MAIL     : lamars3@aol.com
  KENNEL NAME: Lamars
  ADDRESS    : 400 Hoffman Lane,  Brentwood, CA 94513
  PHONE      : (925) 513-8424
Breeder: Margo Lauritsen & R & N Gutmacher