Ch. Sir Percival Hrothgar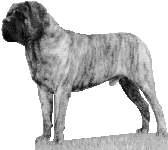 AKC#: WG452750     BORN: 3/14/1990     PROVEN: yes
Description:
  COLOR     : fawn brindle		WHITE MARKINGS: none
  MASK      : standard, lighter ears	COAT          : medium
  HEIGHT    : 30 1/2			WEIGHT        : 194
  BITE      : scissors			EYE COLOR     : dark
  BONE SIZE : large			TAIL          : standard
  ANGULATION: moderate			NAILS         : all black
Health Exams:
  HIPS     : OFA MF-1403G31M		ELBOW: OFEL MF-63
  EYES     : unknown
  THYROID  : unknown			vWD  : unknown
Temperament: not tested
  ATTITUDE TOWARD OTHER DOGS    : friendly
  ATTITUDE TOWARD STRANGERS     : cautious
  ATTITUDE TOWARD NEW SITUATIONS: curious

Pedigree:
						-Ch. Deer Run Jake Enchanted Acres
			-Ch. Perry Of Enchanted Acres
						-Bull Valley Brandy
  SIRE: Sillars Maxx Amillion
						-Millport Farm Randy
			-Duchess Of Kimberly
						-Disston View Sandy

						-Ch. Lionsire Ironhill Warleggen
			-Ch. Iron Hills Phoebus Groppetti
			   OFA MF674E24M,CERF	-Verdunes Tolkien Dreamer
  DAM:  Sillars Millie Amillion
						-Ch. Deer Run Jake Enchanted Acres
			-Sillars Lady Abigale
						-Queen Elizabeth Of E Ranch

Comments: 12/94 AVAILABILITY UNKNOWN
Bubba's Dam is a litter sister to Ch. Sillars K.O. Tyson.
He has half of his Canadian Championship points. He is registered in Canada, #1045003.
From June '91 to January '92, 21 shows, 5 BOB (only 3 shows from June to mid September (too hot)). He has been in a total of 27 shows: 6 Best Of Breeds, 11 Winners, 6 Best Of Winners, 3 Best Of Opposite Sex.
Bubba has the best eyesight of any dog we have ever had, both near and far away.

Published Offspring:
  Duchess Medallion Hrothgar
Published Full Siblings:
  Ch. Sillars Dear Abby

Owner:
  NAME       : Betty S. Griggs & Fred Griggs
  ADDRESS    : 6118 Flemington Rd,  Dayton, OH 45459
Breeder: D. Johnson