Ch. Sagi Tiamat's Trick Or Treat, CGC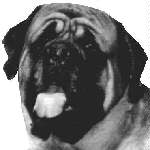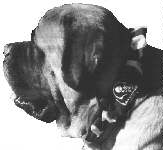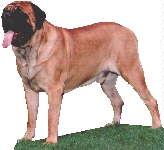 AKC#: WP384470/08    BORN: 10/31/1991    PROVEN: yes
Description:
  COLOR     : apricot			WHITE MARKINGS: none
  MASK      : standard, black ears	COAT          : medium
  HEIGHT    : 32			WEIGHT        : 195
  BITE      : undershot			EYE COLOR     : dark
  BONE SIZE : large			TAIL          : standard
  ANGULATION: moderate			NAILS         : all black
Health Exams:
  HIPS     : OFA MF-1499G25M		ELBOW: OFEL MF-EL96
  EYES     : CERF MF-845/56&68&80
  THYROID  : OFA MF-TH8/59M		vWD  : normal  vWF:Ag: 102%
  PRA DNA  : Homozygous Normal (clear)
Temperament: not tested
  ATTITUDE TOWARD OTHER DOGS    : cautious
  ATTITUDE TOWARD STRANGERS     : friendly
  ATTITUDE TOWARD NEW SITUATIONS: curious / bold

Pedigree:
						-World,Am.Ch. Groppetti Wallon, TT
			-Brutal Force Of Agape
			   OFA MF1390G63M	-Tequila Sunrise
  SIRE: Ch. Sagi Maximum Joy
						-Millport Farm Randy
			-The Only Apricot Ninja
						-Mack's Felix Nel's Princess

						-Ch. Lionsire Ironhill Warleggen
			-Ch. Medallion Emerald Monarch
			   OFA MF986G35M	-Ch. Monty's Dixie Derby, CD,TT,TDI
  DAM:  Sagi Sweet As Sugar Shasta
						-World,Am.Ch. Groppetti Wallon, TT
			-Golden Honey Sagi B
						-Tequila Sunrise

Comments: 6/94, 8/03 NO LONGER AVAILABLE AS A STUD
This beautiful boy has personality plus! Whether he is stepping into the shower for a cool down on a hot day or jumping into a lake to paddle around for hours, this boy loves water. Unfortunately, his love for people often drags him, dripping wet, out of the water to try to make friends with innocent passersby. A couch potato at heart, he still has the energy to protect his human lady friends on evening jogs. His less important accomplishment, in his mind, was achieving his championship, owner-handled, in 4 months when his owners decided to brave showing. Now don't get him wrong, he loves the shows, but he would sooner be on the outside of the ring with all the people. He is definitely excited about his owners plans to make him a therapy dog and he may even agree to go for his CD title.
All cuteness aside, this is a very nice dog. He is a very well-put-together dog with no major faults. His biggest weakness is that he could use a little more angulation. He has had quite a few compliments from judges on his movement, which is sound and clean.
We do ask that bitches be OFA'd (or at least prelimmed) and test negative for brucellosis.

Published Photographs:  MCOA Journal, 1994#3, page 46.

Published Offspring
  Kasmira's Isuzu
  Kasmira's Kezia OFAg26,OFEL
  Kasmira Maggie Mae OFEL,CERF
  Nittany Bitter Sweet CERF
  Nittany's Get In The Ring OFAf24,OFEL,CERF
  Ch. Nittany Handsome Gentleman OFAf25,OFEL,CERF
  Nittany Mistress Katy Keepdown CERF
  Ch. Nittany's Old Bailey's Philida, CGC,TDI OFAg26,OFEL,CERF
  Nittany On Eagle's Wings OFAg42,OFEL,CERF
  Ch. Nittany Sweet Child O'Mine, NA,CGC OFAg24,OFEL,CERF
  Patrice's Ace Of Spades
  Superior Hurricane Camille OFAf33,OFEL
  Can.Ch. Superior Lynnspride Bilko OFAg35,OFEL,CERF
  Superior Master Nigel OFAg24

Published Full Siblings:
  Candy's Apricot Brick
  Sagi Simply Irristable Ray
  Sagi Sweet Sandy Joy

Owner:
  NAME       : Dennis A. & Kirsten I. Ludwig
  E-MAIL     : nittany@redwing.net
  KENNEL NAME: Nittany Mastiffs
  ADDRESS    : W7328 Hwy 10,  Ellsworth, WI 54011
  PHONE      : (715) 273-4091
Breeder: R. Lytle & A. Ehrhart