Mex.Am.Ch. Celtic's Sweet Sam, CGC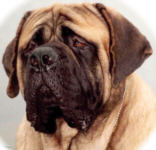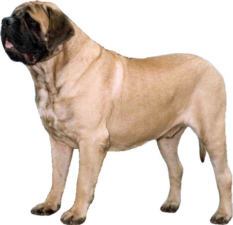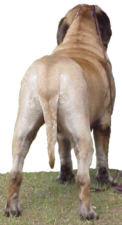 AKC#: WP768580/01     BORN: 1/23/1997   PROVEN: yes
Description:
  COLOR     : fawn			  WHITE MARKINGS: none
  MASK      : standard, black ears	  COAT          : short
  HEIGHT    : 32			  WEIGHT        : 237
  BITE      : scissors			  EYE COLOR     : dark
  BONE SIZE : huge			  TAIL          : standard
  ANGULATION: moderate			  NAILS         : all black
Health Exams:
  HIPS   : OFA MF-4070F40M-T, prelim good ELBOW   : OFEL prelim
  EYES   : CERF exam			  PATELLAS: OFA MF-PA411/40/M/P-T
  THYROID: OFA MF-TH88/19M-T		  vWD     : unknown
  HEART  : OFA MF-CA00325/41M/C-T
  PRA DNA: Homozygous Normal (clear)
Temperament: CGC
  ATTITUDE TOWARD OTHER DOGS    : friendly
  ATTITUDE TOWARD STRANGERS     : friendly
  ATTITUDE TOWARD NEW SITUATIONS: at ease

Pedigree:
						-Ch. Lionsire Ironhill Warleggen
			-Ch. Iron Hills Warwagon
			    OFA MF1041G60M	-Ch. Iron Hills Elbereth
  SIRE: Ch. Iron Hills Storm' in Norman
	   OFA MF1611G38M			-Ch. Lionsire Ironhill Warleggen
			-Iron Hills War Bonnett
						-Verdune's Tolkien Dreamer

						-World.Am.Ch. Groppetti Wallon, TT
			-Sir Brutus Von Wallon
						-Largent's Hopeful Comequat
   DAM: Ch. Maximillion's Walkabout Tess
						-Baskerville Royal Caesar
			-Tony's Sweet Ginger
						-Greco's Aixa Fawn

Comments: 9/02 9/07
Sam has an extremely sweet, friendly disposition. He loves people and gets along well with other dogs. He is very sound and has excellent movement. He has massive bone, a big strong rear, deep chest, good feet and a beautiful head. He finished his championship as a puppy in just a few shows. He loves to be in the show ring and his tail never stops wagging!
Same has 25 Best of Breeds as of January 2000 and won an Award of Merit at the 1999 MCOA National Specialty. His semen is available for approved bitches. DNA Profile # V29758.
Sam is deceased. Frozen semen is still available.

Published Offspring:
  Bellalucia
  Cleopatra Queen Of Denile
  Dunedawg's Sweet Son Of Sam OFAg24
  Ch. Greesons Sweet Irish Rose
  Greesons Sweet Samantha OFAg27,OFEL
  Ch. Hotlanta's Exe, TT OFAg27
  Ch. Hotlanta's Red Hot Jordan Rumor OFEL
  Ch. Hotlanta's Jimdandy Jordan OFAf30,OFEL
  Ch. Hotlanta's Sweet Dixie OFAg35,OFEL
  Juliet Rhianna Boline OFAg24,OFEL
  Kasmira's Kendra
  Ch. Kona Al' Arrabiatta OFEL
  Old Towns Field of Dreams OFAg47
  Parker's Lazy Macey OFAg33,OFEL
  Sam's Warrior Princess OFAg24
  Southern Sweet Sydney OFAf25,OFEL
  Sweet Lady Elizabeth II
  Sweetlix Hagrid Of Hogwarts
  Ch. Sweetlix Niko Me N My Shadow
  Tygerlily OFAg26,OFEL

Published Full Siblings:
  Celtic's Bonny Brigit OFAg26,OFEL,CERF
  Ch. Celtic's Southern Star Sensation OFAg42
  Ch. Celtic's Starstruck Sabrina OFAg27,OFEL,CERF
  Ch. Celtic's Southern Star Sensation OFAg42,CERF
  *Ch. Maximillion's Sherman Tank OFAf25,OFEL,CERF
  Ch. Maximillion's Sir Benson OFAf37
  Maximillion's Wild-N-Willie
  Ch. Von Roth's Goal Keeper OFAf24,OFEL
  *Ch. Sir Winston Churchill III OFAg24,OFEL,CERF

Owner:
  NAME       : Don & Linda Greeson
  KENNEL NAME: The Mastiff Sweet Spot
  ADDRESS    : PO Box 609,  Fruitland Park, FL 34731-0609
  PHONE      : (352) 787-8549
  E-MAIL     : ACSLINDA@comcast.net
Breeder: R. O'Connor