Int.Am.Can.Ch. Sugarfoot's Shot In The Dark, Am.Can.CD,TT,CGC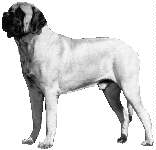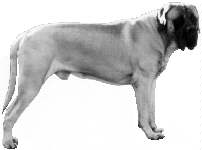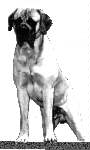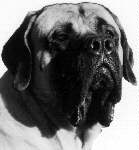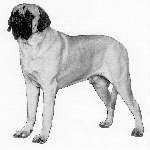 AKC#: WP482294/02     BORN: 5/8/1993     PROVEN: yes
Description:
  COLOR     : fawn			WHITE MARKINGS: none
  MASK      : standard, black mask	COAT          : medium
  HEIGHT    : 34			WEIGHT        : 220
  BITE      : slightly undershot	EYE COLOR     : dark
  BONE SIZE : large			TAIL          : standard
  ANGULATION: moderate			NAILS         : all black
Health Exams:
  HIPS      : OFA MF2264G35M-T		ELBOW  : OFEL MF-417-T
  EYES      : CERF MF-\97-46		PATELLA: 
  THYROID   :				vWD    :
  CYSTINURIA: Normal
  PRA DNA   : Homozygous Normal (clear)
Temperament: TT 730444 95-01
  ATTITUDE TOWARD OTHER DOGS    : friendly
  ATTITUDE TOWARD STRANGERS     : friendly
  ATTITUDE TOWARD NEW SITUATIONS: at ease

Pedigree:
						-Ch. Arciniega's Moonstone Argus
			-Ch. Saratoga Floyd
						-Northwood Rose Mystique
  SIRE: Ch. Moonstone's Noblest Rasputin
          OFA MF1880F37M,OFEL,CERF		-Ch. Moonstone's Darius The King
			-Ch. Moonstone's Heather U Promised
						-Gulph Mills Madison Park

						-Am.Can.Ch. Gulph Mills Magician
			-Ch. Moonstone's Darius The King
						-Moonstone's Jole Blon
  DAM:  Glenwood's Magic Mist
						-Quellwater Deer Run Toby
			-Kristabren's Lady Kay
			    OFA MF705F34F	-Can.Ch. Bow Hills Nada By Legion

Comments: 1/00
News - Buck he sired champions as well as a Best Puppy in Show winner, and an adult Group 1.
Buck is a sweet Mastiff with personality plus! He makes friends everywhere he goes (human and canine). He is always extremely popular with Judges, exhibitors, and Mastiff Fanciers. He is an exceptional mover, sound, and well co-ordinated. He can hop a fallen tree 4 feet off the ground with ease, hike a mountain ledge, or gallop along side my horse. He is a slow maturing dog, still slowly filling out. He's had no growth problems while developing. He always sports a healthy shiny coat; no skin problems. He is a beautiful rich fawn color with a very black mask and ears. He has a beautiful broad head with exemplary proportions, a strong, broad muzzle, wide nostrils, eyes set wide apart. His eyes are tight, dark, medium-small, and not prominent; no entropion. He has nice wrinkle, not overdone. His feet are tight. His topline is flawless; beautiful arch of neck, sloping shoulders, level back of correct length, strong loin, and properly sloping croup blending onto a correct tail set. The tail reaches fully just past the point of hock. His rear is hard to beat; broad, excellent angulation, and correct bone structure from all angles. Buck is not over-angulated and does not throw his hocks as he moves, nor is he straight. He has a long hip and strong stifles. I do not stack him with his feet way out behind or to the sides.
Buck's faults are: his ears are too large, very common, but nevertheless a fault. His scissors bite has slowly deteriorated to slightly undershot with crooked teeth. Though still immature, his chest needs to broaden. He has excellent depth of chest, but he is a little in at the elbows, also causing him to toe out slightly in front. Oddly, he is the only one from his litter like this, the others are all chesty. I would like to see a stronger pastern, especially in a heavy breed such as this; Buck's pasterns slope a little too much for my liking.
Buck achieved all his titles with limited showing. As a puppy he was pulled for winners dog at the MCOA National Specialty in Portland. He took the Award Of Merit at the Canadian National Specialty in Abbotsford, (second only to Canada's number one Mastiff 2 years running: Colton's Beauregard). His obedience titles were obtained in three straight trials (both countries) with scores all in the 180's and 190's. He is TDI qualified, but I haven't had him out to any visitations, just school events. He is working well in harness, and loves to pack. His effortless, smooth gait is what clinches his performance in the ring. Horses weigh 1200 lbs and they don't look like they are working to carry their bodies forward; neither should a Mastiff.
Goofy puppy photo appears in MCOA Journal #3, 1994, page 25. The video shows him better. I plan to advertise him in the upcoming Journal. Many of Buck's siblings are cleaning up in the show ring as well.
I have not completed testing for all of the health issues, but if I have any inquiries I will happily perform any tests. I plan to get all tests done in the next year, as, though not foolproof, I believe we have to try our best with the information available to us. Both hip and elbows have been x-rayed and veterinarian rated as good to excellent. He is an honest 34", 210 lbs (when last weighed at 2 years). Buck is double registered.

Published Full Siblings:
  Sugarfoot Cochice Mist OFAg41
  Sugarfoot Deirdre Ermengard OFAf57,CERF
  Sugarfoot's Lady Layla Griffin OFAg24
  Ch. Sugarfoot's Sweet Caroline OFEL,CERF

Published Offspring:
  Can.Ch. Resolute My Corona OFAg27,OFEL,CERF,PRADNA
  Sugarfoot Happy-Go-Lucky OFAg25,OFEL,CERF
  Sugarfoot Mycroft Dark Eyes
  Sugarfoot Tenacious OFAg24,OFEL
  Can.Ch. West Coast Naughty Lass OFAg27
  Can.Ch. Westcoast Resolute Nahanni CERF
  Can.Ch. West Coast Skipper, DD,TT,CGC OFAg52

Owner:
  NAME       : Shannon Low  resolutemastiffs@shaw.ca
  KENNEL NAME: Resolute Mastiffs
  ADDRESS    : 16682 B Central Saanich Road, Victoria, BC (Canada) V8Z 5T7
  PHONE      : (250) 544-1510
Breeder: S. Glaspey