Ch. Spicewood's Simba's Pride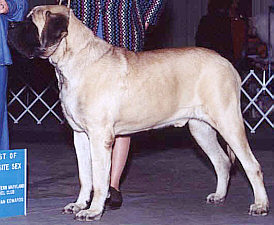 AKC#: WP962116/03     BORN: 1/31/2000     PROVEN: no
Description:
  COLOR     : fawn			 WHITE MARKINGS: none
  MASK      : standard, black ears	 COAT          : short
  HEIGHT    : 32			 WEIGHT        : 200
  BITE      : slightly undershot	 EYE COLOR     : dark
  BONE SIZE : large			 TAIL          : standard
  ANGULATION: moderate			 NAILS         : all black
Health Exams:
  HIPS    : OFA excellent MF-4963E27M-PI ELBOW     : OFA MF-EL2118M27-PI
  EYES    : CERF MF2594-38		 CYSTINURIA: normal 10/8/02
  THYROID : 				 vWD       : 
  PATELLAS: OFA MF-PA720/31/M/P-PI	 CARDIAC   : OFA MF-CA580/28M/C-PI
  PRA DNA : Homozygous Normal (clear)
Temperament: 
  ATTITUDE TOWARD OTHER DOGS    : aloof
  ATTITUDE TOWARD STRANGERS     : aloof
  ATTITUDE TOWARD NEW SITUATIONS: curious

Pedigree:
							-Ch. Hedgestone Big Man
			*Ch. Enchanted Acres Trust Me
			   OFA MF1599E32M,OFEL,CERF	-Ch. Enchanted Acres Raisin Rukus
  SIRE: Ch. Spicewood's I Go To The River
	 OFA MF3697E28M-T,OFEL				-Am.Can.Ch. Matts Joshua Of Dogwood Knoll
			-Ch. Queen Elizabeth Heavensgate
			 				-Lionsire Princess Zelda

							-Ch. Hedgestone Big Man
			*Ch. Enchanted Acres Trust Me
			   OFA MF1599E32M,OFEL,CERF	-Ch. Enchanted Acres Raisin Rukus
  DAM: Ch. Misty Meadows Forget Me Not
	 OFA MF3089G32F-T				-Ch. Pax River Nemesis
			-Belair's Anna Of Aquia
			   OFA MF1946F28F		-Ch. Beautiful Babe Of Belair

Comments: 10/02
Leo is a wonderful family member - loving and protective of his "children", while at the same time gentle to those he trusts. He does not show affection to a new person right-off, but rather waits to see if the stranger is approved by the family and he deems that person "safe." He has gone to my daughters' pre-schools and elementary schools to teach about behaving around dogs and just to be an amabassador for our breed.
Leo is awaiting more health test results: Cystinuria, vWD factor and current CERF exam.
Leo is available to complementary bitches who have also passed their health tests... must provide copy of pedigree and health test information and we can discuss it from there.

Published Full Sibling:
  Spicewood's Its A Good Thing OFAg24,OFEL

Owner:
  NAME       : Denise Burnett
  E-MAIL     : PrideMstfs@aol.com
  KENNEL NAME: Pride Mastiffs
  ADDRESS    : 723 Tacketts Mill Road,  Stafford, VA 22556
  PHONE      : (540) 286-1126
Breeder: G. Moore and M. Blethen