Ch. Storm Ta-Tanka O' Applewhaites, CGC,TDI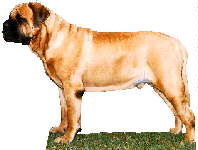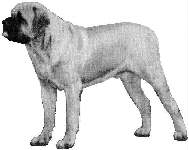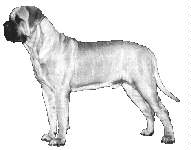 AKC#: WP346493/01     BORN: 5/7/1991     PROVEN: yes
Description:
  COLOR     : fawn			WHITE MARKINGS: none
  MASK      : standard, lighter ears	COAT          : short
  HEIGHT    : 31			WEIGHT        : 220
  BITE      : slightly undershot	EYE COLOR     : dark
  BONE SIZE : huge			TAIL          : standard
  ANGULATION: moderate			NAILS         : all black
Health Exams:
  HIPS     : OFA MF-1472F29M		ELBOW: OFEL MF-82
  EYES     : CERF
  THYROID  : normal			vWD  :
Temperament: CGC, TDI
  ATTITUDE TOWARD OTHER DOGS    : friendly
  ATTITUDE TOWARD STRANGERS     : friendly
  ATTITUDE TOWARD NEW SITUATIONS: at ease

Pedigree:
					-Master Of The Woods
			-Ch. Odin Of Dahlseide
					-Dahlseide Dame Puddin-Tame
  SIRE: Ch. Peersleigh Storm Sherman
					-Ch. Willowledge Caesar III
			-Ch. Peersleigh Princess Carolyn
					-Peersleigh Lady Lorelei

					-Ch. Grenveldt Great American Hero
			-Can.Ch. Northwood Earl Loxley, TT
					-Ch. Quellwater Deer Run Antique
  DAM:  Loxley Storm Druidess
          OFA MF1078F25F		-Ch. Damaria The General
			-Can.Ch. Storm Drudwen Of Lazy Hill
					-Ch. Storm Dixieland Delight Of BH

Comments: 10/96
TaTanka received his championship with all consecutive majors by the age of 13 months. He is a very happy, fun dog. He loves to play and is very social. He is a solid well balanced dog.
TaTanka is currently begin shown on a very limited basis. He is having a great time being a therapy dog and Ambassador for the breed! He goes to Head Start and visits nursing homes on a regular basis.
TaTanka throws himself quite predominantly. His offspring have his substance and great temperament.
He will be bred to carefully selected bitches with good type and temperament, and with x-rayed hips and elbows. Brucellosis testing required prior to breeding.

Published Photographs:  MCOA Journal, 1993#1, page 8.
Published Offspring:
  Applewhaites Adam, CD
  Applewhaites Cochise OFAf30
  Applewhaites Court Queen OFAg36
  Ch. Applewhaites Hells' Harlot
  Applewhaites Keya OFAf24,OFEL
 *Applewhaites Skya's Tahawas OFAg24,CERF
  Applewhaites Taiomah OFAf38,OFEL
  Castletop's Drumroll
Published Full Siblings:
  Storm Apple Of Swede Road
  Storm Grey Ct Raven O Swede Road OFEL

Owner:
  NAME       : Dennis & Laura Sullivan
  E-MAIL     : crs@ime.net
  KENNEL NAME: Applewhaites Farm
  ADDRESS    : 42 North Mountain Road,  Jefferson, ME 04348
  PHONE      : (207) 549-5070  Fax (207) 549-5090
Breeder: D. & B. Andersson