Ch. Skamania's Tug Beau-T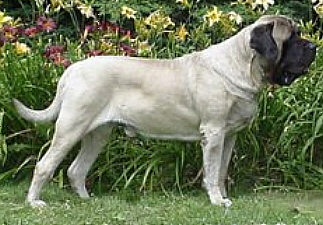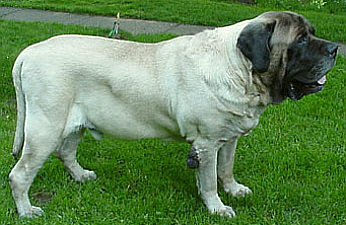 at 9 1/2 years

  AKC#: WP683562/01    BORN: 1/24/1996    PROVEN: yes
Description:
  COLOR     : fawn			WHITE MARKINGS: none
  MASK      : standard, black ears	COAT          : short
  HEIGHT    : 32			WEIGHT        : 210
  BITE      : slightly undershot	EYE COLOR     : medium
  BONE SIZE : large			TAIL          : standard
  ANGULATION: moderate /well		NAILS         : all black
Health Exams: 
  HIPS      : OFA Good MF3186G29M-T,Prelim excellent	ELBOW  : OFEL MF-EL953-T
  EYES      : CERF MF-1114/97-16&30
  THYROID   : OFA MF-TH82/29M-T		vWD : normal
  PRADNA    : clear by parentage
Temperament:
  ATTITUDE TOWARD OTHER DOGS    : at ease
  ATTITUDE TOWARD STRANGERS     : at ease
  ATTITUDE TOWARD NEW SITUATIONS: at ease

Pedigree:
						-Ch. Deer Run Wycliff
			-Ch. Deer Run Sinder
			   OFA MF542G28M	-Deer Run Odette
  SIRE: Int.Am.Can.Ch. Coltons Beauregard
           OFA MF1330F38M,OFEL,CERF		-Ch. Kirk's Red Baron of Portland
	   PRADNA	-Ch. Barnes Sweetpea Kirk
						-Barnes Malinka Holaka

						-Ch. Saratoga Floyd
			-Am.Can.Ch. Moonstone's Nobelest Rasputin
			   OFA MF1880F37M,OFEL	-Ch. Moonstone's Heather U Promised
   DAM: Am.Can.Ch. Moonstone's Skamania Jasmine
	   OFA MF1966E25F,OFEL			-Titus's Tiberian Bigfoot
	   PRADNA	-Stonebridge Moonstone Sara
						-Moonstone's Epiphany

Comments: 8/97
Tug is a very affectionate, sweet and good natured boy, very like his mother who was Best Puppy, 1994 MCOA Specialty. He is extremely athletic and sound, he loves to play, leaping and bounding over lawn furniture and stumps in the woods. He also loves the water and playing at the beach.
A very beautiful and powerful mover, we have high hopes for him when he matures. In the meantime we will be showing him in Canada for his Championship and also in the Intl. shows. He finished his American Championship at 16 months from the Bred by Exhibitor Class, after I finished his brother Am.Can.Ch. Beau's Ultimate Beef on Rye, a couple months earlier.
He has a very strong rear and while not attaining the size of his sire I would expect that he will be around 220 lbs when he mature's with a deep body and magnificent head. His feet are nice and tight, eyes good, ears not to large. He has sired a litter of 12 with 6 girls and 6 boys, they were all very uniform with nice heads. He is OFA Prelimed Excellent at 13 months of age with a 98.5 percent chance that he will OFA at age of 24 months with same results, a litter mate brother has also prelimed excellent.

Published Offspring:
  Ch. Bering's Miss April Sunshine
  Blackstones Christmas In Spring OFAg25,OFEL
  Blackstone's Fancy Lady OFAe50,OFEL
  Blackstones Honorable Impact OFAg39,OFEL
  Blackstone's Majestic Lady OFAg50
  Blackstones Morco Amanda CERF
  Blackstones Rock Your World OFAg25,OFEL
  Blackstones Touch Of Sable OFAe50
  Gran Sport Stage Two (GS)
  Headley's Lady Bets For Don OFAg44,OFEL
  Ch. Kiokee Who's Your Daddy
  Can.Ch. Mountain View Miss Molly OFAg27,CERF
  Intl.Am.Can.Ch. Mountain View Mr Magilicutty OFAg27,CERF
  Mountain View Mandy OFAg38,CERF
  Ch. Pharaway's Graceful Spencer OFAg26,OFEL,CERF
  Ch. Pharaway's Big Bowser OFAg25,OFEL,CERF
  Pharaway's Lady Winchester OFAg26,OFEL,PRADNA
  Ch. Pharaway's Wynwood Whisper OFAg32,OFEL
  Ch. Pharaway's Wynwood Willow OFAg25,OFEL
  Ch. Polgara Skamania Of No. Rose
  Ch. Skamania's Warrior Princess
  Ch. Skamania's Dusk To Dawn
  Thunder Runs Gwenavere
  Thunder Runs Sir Lancelot
  Thunder Runs Son A Skamania

Published Full Siblings:
  Beau's Little Bag Of Trix OFAg26,OFEL
  Ch. Beau's Ultimate Beef On Rye OFAg25,OFEL,CERF
  Ch. Skamania's Beauz Soleil OFAg43,OFEL,CERF
  Skamania Lady Jaz Beauderek OFAg41,CERF30
  Ch. Skamania's Warrior Princess OFAf40

Owner:
  NAME    : Dave & Tami Kuhn
  E-MAIL  : kuhn@saw.net
  ADDRESS : 12 Franz Rd, Stevenson, WA 98648
  PHONE   : (509) 427-4807
  WEB PAGE: http://www.mastiff.cc
Breeder: owner