Am.Intl.Ch. Von Himmel's Tucker Of Altoms, CD,TT,CGC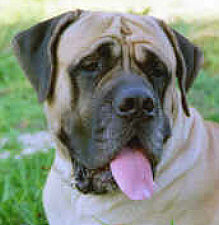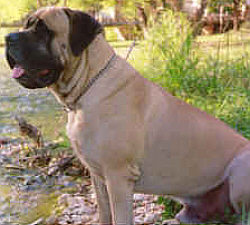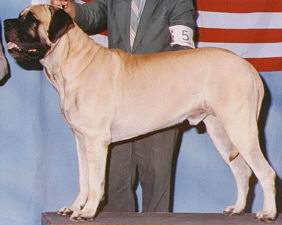 AKC#: WP914544/03     BORN: 4/23/1999     PROVEN: yes
Description:
  COLOR     : fawn			WHITE MARKINGS: none
  MASK      : standard, black ears	COAT          : short
  HEIGHT    : 31			WEIGHT        : 190
  BITE      : slightly undershot	EYE COLOR     : dark
  BONE SIZE : large			TAIL          : standard
  ANGULATION: moderate			NAILS         : more black than white
Health Exams: 
  HIPS    : OFA MF-4521G26M-PI		ELBOW     : OFA MF-EL01825-PI
  EYES    : CERF MF-1773/2002-34	CYSTINURIA: UPENN normal
  THYROID : normal			vWD       : normal 101%
  PATELLAS: OFA MF-PA418/14/M/P-T	CARDIAC   : OFA MF-CA306/14M/P-T
  PRA DNA : Homozygous Normal (clear)
Temperament: TT,CGC
  ATTITUDE TOWARD OTHER DOGS    : friendly
  ATTITUDE TOWARD STRANGERS     : friendly
  ATTITUDE TOWARD NEW SITUATIONS: at ease

Pedigree:
							-Altom's General MacArthur
			-Ch. Harwood's Obadiah
							-Ch. Rippling Waters Windancer
  SIRE: Ch. Harwood's Isaac Of Altoms
	 OFA MF3893G27M-T,OFEL				-Ch. Groppetti Sir Arthur, TT,TDI
			-Ch. Altom's Harwood Work Of Art
			   OFA MF2303F31F-T,OFEL	-Ch. Altom's Timber Georgia Peach

							-Ch. Deer Run Semper Fi Thor, CD
			-Ch. Semper Fi Groppetti Gargoyle
			   OFA MF2046G25M		-Deer Run Semper Fi Kerra, CD
  DAM: Ch. Mastiff Cove TullySu v Himmel
	 CERF						-Ch. Winston Van Mark Meriwether
			-Ch. Burdettes Sweet Maggie Mae
			   OFA MF1228G24F,CERF		-Rippling Waters Shannon

Comments: 9/02 9/07 - NO LONGER AVAILABLE
Tucker has been a "heart stealer" from the moment he graced our home. Loving, affectionate, and ever eager to please. Tucker's list of admirers grows daily. Tucker's accomplishments are impressive by anyone's standards.
His Canine Good Citizen Certification was awarded at 7 months.
He impressively passed the Temperament Test (TT) at 18 months.
At 12 months of age Tucker placed fourth in the heavily entered 12-18 old class at the 2000 National Specialty; subsequently earning his championship at 17 months with very limited showing taking three majors and multiple Best of Breeds along the way.
Tucker qualified for the first two legs of his obedience title on his first outing, placing first and second in the all breed trials. He posted 10 qualifying scores above 180 points in 2001.
Tucker also passed the Therapy Dog International test and regularly visits homes for the elderly.
Tucker is a recipient of the Gold Health Award from the MCOA and has been determined to be Homozygous Normal for the PRA gene.
Tucker is trained in drafting and will earn his Working Dog Title in summer 2002.
Confirmationally he is very sound. He is athletic and has wonderful movement. He continues to mature nicely.

Requirements for bitches: Proof of OFA/OFEL/CERF, pictures, video tape and pedigree of bitch.

Publications:
  MCOA Journal, 2001 #1 page 69
  Canine Chronicle, 2001 Annual Issue

Published Full Siblings:
  Von Himmel's Bella My Beauty CERF
  Von Himmel's Blessing GDC hips&elbows,CERF
  Von Himmel's Hunter My Love CERF
  Von Himmel's Samantha Sue OFAg24,OFEL,CERF,PRADNA
  Von Himmel's Tully Su's Baby OFAg26,CERF

Owner:
  NAME       : Cody Birdwell
  E-MAIL     : texsunlc@houston.rr.com
  ADDRESS    : 8011 Ashley Circle Drive N.,  Houston, TX 77071
  PHONE      : (713) 468-9999
Breeder: K. Karably