Ch. Lamars In It To Win It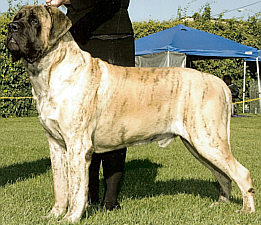 AKC#: WS120230/01     BORN: 11/17/2004    PROVEN: yes
Description:
  COLOR     : brindle			WHITE MARKINGS: none
  MASK      : standard			COAT          : short
  HEIGHT    : 32			WEIGHT        : 220
  BITE      : reverse scissors		EYE COLOR     : dark
  BONE SIZE : huge			TAIL          : standard
  ANGULATION: moderate			NAILS         : all black
Health Exams: 
  HIPS      : OFA MF7499G49M-PI		ELBOW  : OFEL MF-EL4130M49-PI
  EYES      : CERF MF-3745-55		PATELLA: OFA MF-PA1299/18M/P-PI
  THYROID   : 				vWD    :
  CYSTINURIA: UPENN 2720 clear
  PRA DNA   : Clear by Parentage	HEART  : OFA MF-CA1207/35M/C-PI-ECHO
Temperament:
  ATTITUDE TOWARD OTHER DOGS    : friendly
  ATTITUDE TOWARD STRANGERS     : friendly
  ATTITUDE TOWARD NEW SITUATIONS: at ease

Pedigree:
							-Ch. Beowulf's Taylor MadeKodiakSon
			*Am.Can.Ch. Beowulf's Leading Man Bogart
			| CERF,PRADNA			-Am.Can.Ch. Beowulf's The Next Generation, CGC
  SIRE: Ch. Beowulf's Brijas Smuggler
	 OFA MF5258G27M,OFEL,CERF			*Ch. Albert Hunter Of Jericho, CGC
			-Am.Can.Ch. Beowulf's Brittanys Jingabell
			  OFA MF3855G25F,OFEL		-Ch. Beowulf's Ka Cie Bailey

							-Am.Can.Ch. Moonstone's Nobelest Rasputin
			-Ch. Pleasant View Of Moonstone
			| OFA MF4371G27M,OFEL		-Brite Star's Daphne
   DAM: Ch. Lamars Twist Of Fate
	 OFA MF5891E24F,OFEL				-Ch. Brite Star's Dual Image, CGC,TDI
			-Ch. Lamar's Such A Princess
			  OFA MF4315E44F,OFEL		-Ch. Lamar's Sassy Sandy Savy

Comments: 7/09
Jimmy's temperament is very sweet and tolerant. He has a ton of show energy and is a clown with his toys. He is very good with other dogs, his favorite pal is a Beagle named RJ. He used to travel to shows. Jimmy was the #6 Mastiff in the Nation in 2006 and 2007. He won an award of Excellence at the 2007 Eukanuba Invitational. AOM at the REMC Specialty. Multiple BOBs and Group placements.
Jimmy's strength is his LOVE of the show ring and life in general, a very happy, up dog. He passes these qualities on to his Get.
He has a Group placing daughter. Two of his offspring are already multiple breed winning girls. His daughter Ch. Lamars Belle's Super Star took winners bitch at the 2009 MCOA Specialty at 17 months of age.
Jimmy has great reach and drive with a solid topline.
He is available to fully tested Bitches of Merit.

Published Full Siblings:
  Lamars Here For The Party OFAg25

Published Offspring:
  Ch. Boshars Daddy's Girl
  Boshars Midnight Rain, CGC
  Boshars One of These Days, CGC,RN,TDI
  Ch. Lamars Belle's Super Star  
  Ch. Lamars Jesse James OFAg26,OFEL
  Ch. Lamars Locked N Loaded at Bluelead

Owner:
  NAME       : Margo Lauritsen
  E-MAIL     : lamars3@aol.com
  KENNEL NAME: Lamars
  ADDRESS    : 400 Hoffman Lane,  Brentwood, CA 94513
  PHONE      : (925) 513-8424
Breeder: Margo Lauritsen & Gina Madison