UKC Grand Ch. Gibson's Greathouse Sir Yogi, CGC,TDI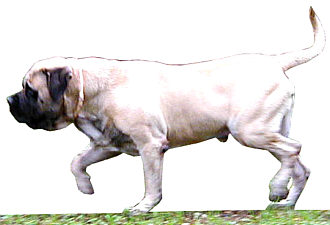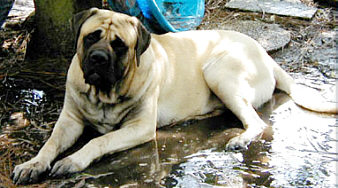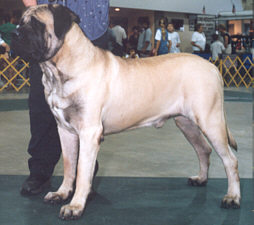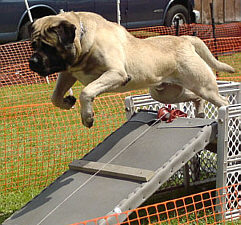 Agility

  AKC#: WP873171/02     BORN: 8/25/1998     PROVEN: yes
Description:
  COLOR     : fawn			WHITE MARKINGS: on chest
  MASK      : standard, black ears	COAT          : medium
  HEIGHT    : 31"			WEIGHT        : 190
  BITE      : reverse scissors		EYE COLOR     : very dark
  BONE SIZE : huge			TAIL          : standard
  ANGULATION: moderate			NAILS         : all black
Health Exams:
  HIPS    : OFA MF-4161G24M-T, Prelim GOOD	ELBOW: OFEL MF-EL1585-T
  EYES    : CERF MF-1652/00-4&28		HEART: OFA MF-CA283/18M/C-T
  THYROID : normal 2000				vWD  : normal vWF: 116%
  PATELLAS: MF-PA381/18M/P-T			CYSTINURIA   : UPenn Negative 3/24/2000
  PRA DNA : Homozygous Normal (clear)
Temperament: CGC, TDI
  ATTITUDE TOWARD OTHER DOGS    : friendly
  ATTITUDE TOWARD STRANGERS     : cautious
  ATTITUDE TOWARD NEW SITUATIONS: curious / bold

Pedigree:
						-Sir Grizzley
			-Sir Grizzley's Beasley
						-Indian Raid's Lila
  SIRE: Sir Yogi Of Sir Grizzley's
          OFA MFF2874G53M-T,OFEL		-Bulliff Captain Cottle
       			-Indian Raid's Lady Misty
						-Indian Raid's Bodecia

						-Sir Grizzley's Beasley
			-Churchill Of Sir Grizzley's
						-Indian Raid's Lady Misty
  DAM:  Martha Of Sir Grizzley
          OFA MF3050G45F-T,OFEL			-Sir Grizzley's Sir Romeo
        		-Falene Of Sir Grizzleys
						-Coburngore Courtney

Comments: 4/03 - 9/03 NO LONGER AVAILABLE
Yogi is a long, broad, deep-bodied male who moves with power and presence. He easily earned his UKC Championship with Best Of Breed placements and two Group seconds. Yogi is the first Mastiff to ever earn the UKC Grand Champion title (pending confirmation from UKC's research department). It is a very difficult title to earn requiring 5 wins of the "Champions" class, with enough Champions defeated, under different judges. We are very proud of him! He is currently the top UKC Mastiff in breed points. His grand daughter "Ruby" was the top UKC Mastiff of 2002.
Yogi is being trained in carting/draft work and is used around the property to haul heavy loads of tree trimmings. Yogi's earned both Majors with AKC in one weekend and I expect to finish him in 2003.
Yogi loves puppies, female dogs, tiny dogs and cats, but can be cocky and pushy around adult male mastiffs.
He is a proven sire of heavy boned, massive pups with beautiful heads. His first litter of 8, are all cystinuria Negative and vWD normal.
He is tightly linebred/inbred (21.48% in 10 generations) and has much to offer the breed.
Yogi is a MCOA GOLD Health Award Winner.
He is available on a limited basis to quality bitches that are fully tested. Progeny testing required.

Published Offspring:
  Gold Coasts DeVine Sir Chacote CERF
  Gold Coasts Eye Of The Needle OFEL
 *Gold Coasts July Johnson CERF
  Gold Coasts Liberty Belle OFAf36,OFEL,CERF
  Gold Coasts Rudy OFAg24,OFEL
  Gold Coasts Solitaire OFAf24,OFEL,CERF

Owner:
  NAME   : Lisa Nicollelo & Linda Monroe
  E-MAIL : GCmastiffs@aol.com
  KENNEL : Gold Coast
  ADDRESS: 11669 152 St N,  Jupiter, FL 33478
  PHONE  : (561) 575-7211
Breeder: H. Gibson