De Vine Farm's Hooch

 DOB: 10/6/90, fawn brindle
      OFA fair, OFEL, CERF, VWD clear, Low Thyroid
      30" tall, 150 lbs, Cystinuria positive
Died: 11/14/99, cancer
Sire: Ch. Willowledge Brett
 Dam: Old School Peersleigh Muffin, OFA good

Hooch has tons of personality, a bit soft, easily trained - he did very well in his obedience class. Hooch is not a good swimmer, but enjoys leaping in the pool anyway. He loves to go anywhere we do and takes everything in stride - even little kids running up to him and hugging him - but you should have seen the look on his face the first time! After he got over his surprise he just grinned from ear to ear while the kid kept hugging him. When he wants somthing he tries to use body language to explain it to his stupid human companions - like lassie, when he wants you to go somewhere he comes over looks at you until you are paying attention, wags furiously, then goes a few steps in that direction, then looks back over his shoulder, as if to say, "well, are you coming?"
When we had him ringside at the National Specialty in New York, Eve Olsen Fisher, who did not know who he was, came up and said that he is the spitting image of Bulliff Butchers Blade, who, she was surprised to discover, is Hooch's grandsire.
Hooch is currently on siloxine for his low thyroid. Hooch is Vixen's uncle.
Hooch was first tested for Cystinuria in January of 1998 at the age of 7 years. Initially he tested borderline, probably because his urine was collected in the morning about 23 hours after he last ate. On retest he tested positive for Cystinuria. He then participated in a feeding study conducted by the University of Pennsylvannia in an effort to find out more about Cystinuria and the effect of diet on Cystinuria. At least in Hooch's case, peak levels of Cystine were found in his urine 2 to 6 hours after eating.
Hooch's last year was a tough one. At the beginning of the year he developed a urinary tract infection - the first one he had ever had - this was probably due to cystine crystals forming when his diet was changed to BARF based primarily on chicken (chicken is high in cystine). He responded well to antibiotics and a diet change - no more UTI and no more crystals.
Then a mass on his spleen ruptured and he lost enough blood to cause him to faint. He bounced back from that well, but required emergency surgery to remove his spleen before it could rupture again. This was major surgery and took a couple weeks to recover from.
Then at the end of August his Cystinuria flaired again and he developed stones and blocked (he could not urinate). The vets spent a couple hours trying to hydropulse the stone back into his bladder, but were unable to and ended up doing surgery to allow him to urinate from another place. They did this just in front of his testicles rather than behind as is normally done. He bled a lot from this for a week, and when I say a lot, I mean a LOT, he bled so much even with us surpervising constantly and applying pressure immediately that he was anemic at the end of the week, loosing his appetite and becoming listless with obviously pale gums. Every time that he would urinate and any time that he became "excited" he would bleed. We put the girls in the other half of the house and never let him see them even though they are all spayed, but at night he would have "night dreams" and bleed, one of us slept in the same room with him every night. He was at the vets every day except for Sunday though he was home at night.
Monday morning we took him back to the vet and insisted that they do something immediately. They inserted a soft catheter thru the new hole they had created and applied a pressure bandage - this worked very well and I wish we had known to do this sooner. After two days with the soft catheter it was removed and the bleeding was over. We had been so worried about Hooch that we practically collapsed with relief. Once the bleeding was over the operation was a success. Hooch was able to urinate in an almost normal fashion with no dribbling, no urine running down his legs as I had been warned might happen with the more common approach of rerouting the urethra so that he would pee out the back like a girl.
We still had to deal with the stones in Hooch's bladder - now obvious on x-ray - we did not want to put him thru another surgery. Our vets consulted with the top Specialist in the country and the team at University of Pennsylvania and decided to put Hooch on Thiola and a restricted diet low in protein. Thiola is a drug used by people with Cystinuria. We ordered the Thiola, $420 per month for a dog Hooch's size. It was on back order and did not arrive until after his death. Hooch's death was not related to his Cystinuria, but the Cystinuria is what caused him the most pain during his last year with us.
At the end of October a mass was removed from Hooch's neck which was near his thyroid and in fact it turned out to contain thyroid tissue and cancer. We had hoped that by removing the mass we had gotten all of the cancer - in 65% of the cases where the mass is free moving this is the case. Unfortunately, this was not true for Hooch. Unknown to all of us the cancer had spread. On Sunday morning, Nov. 14th 1999 we believe another mass ruptured and bled. His gums were pale, he was staggering and having difficulty breathing. We rushed him to the emergency vets, but he took his last breath as we drove into the parking lot. He was laid to rest, head on paws, beneath his favorite tree.
---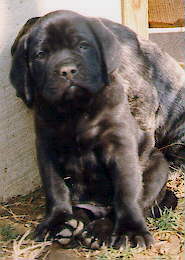 7 weeks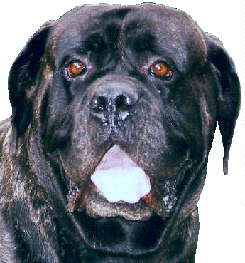 7 years