Aus.Ch. Breton Dael Larceny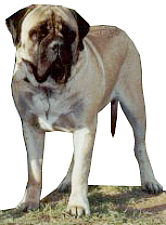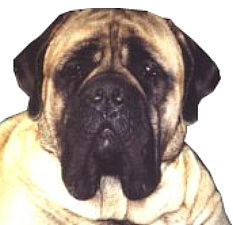 Reg#: 3100043690     BORN: 5/9/1999    PROVEN: yes
Description:
  COLOR	   : fawn			WHITE MARKINGS: chest, chin
  MASK	   : standard, black ears	COAT	  : medium
  HEIGHT   : 31				WEIGHT	  : 213 (97 kg)
  BITE	   : level			EYE COLOR : dark
  BONE SIZE: large			TAIL	  : standard
  NAILS	   : more black	than white	ANGULATION: moderate
Health Exams:
  HIPS	 : AVA Willis scheme 2/106	ELBOW	: AVA 00
  EYES	 : examined			PATELLA	: 
  THYROID: 				vWD	: 
  CARDIAC: 
Temperament:
  ATTITUDE TOWARD OTHER DOGS	: friendly
  ATTITUDE TOWARD STRANGERS	: friendly
  ATTITUDE TOWARD NEW SITUATIONS: at ease
Pedigree:
					-Damaria Powerful MagicOfGildas
			*Aus.Ch. Hunzeal Hi N Mity Hagan
			  AVA 19/106	-Aus.Ch. Hunzeal Fantasia
  SIRE: Aus.Ch. Breton Belgae Tallisman
        AVA 7/106 00			-Aus.Ch. Murrgawanja True Blue
			-Aus.Ch. Breton Aethel Brianna
					-Aus.Ch. Haanstorf Bodacea

					-Damaria Powerful MagicOfGildas
			-*Aus.Ch. Hunzeal Hi N Mity Hagan
			  AVA 19/106	-Aus.Ch. Hunzeal Fantasia
  DAM: Aus.Ch. Breton Belgae Heather
	AVA 6/106 00			-Aus.Ch. Murrgawanja True Blue
			-Aus.Ch. Breton Aethel Brianna
					-Aus.Ch. Haanstorf Bodacea

Comments: 2/01 NO LONGER AVAILABLE AT STUD
Bomber has an incredible temperament. He is used at puppy training classes to introduce all the yound puppies to an older giant breed of dog. He is 100% trustworthy around any dog and people. He is perfect at public demonstrations of the breed and is bombproof even with multitudes of people hanging off him, lifting his feet and looking in his mouth and admiring him. He also loves children.
Bomber is a Royal Breed and group placing mastiff. He has managed Puppy In show at the Mastiff Club Of Victoria specialty show and Best Mastiff In Match at the same clubs match day. Also being awarded joint Feature show puppy of the year
He has multiple group awards at Open and Championship show level and is a well put together sound dog with a broad square head.

Owner:
  NAME	 : Anne Briglia
  KENNEL : Breton Mastiffs
  E-MAIL : breton@foxall.com.au
  ADDRESS: PO Box 5278, Cranbourne Park,  Victoria 3977
  PHONE  : 0359981194
Breeder: Breton Mastiffs